Four Magazine Widgets To Watch

Effective publisher widgets, how they work and their pay-off.
Widgets, portable chunks of online code that can be installed and executed within any HTML-based Web page, have become ubiquitous with magazine sites over the last few years. From exercise calendars to fashion finders and investment calculators, publishers are getting creative with widgets to bolster the user experience and time spent on their sites.
While a new widget is born every day—and there's no shortage of copycats—some publishers have created original and innovative tools to engage their users. Here, Folio: takes a deep-dive into a few that are working.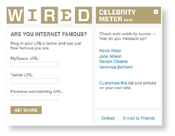 Celebrity Meter Widget
Publisher: Wired.com
With a need to always be ahead of the curve when it comes to cool technologies, last year Wired.com created The Wired Celebrity Meter widget, culling a series of external services and APIs to arrive at an estimate of a person's reputation or "fame status" online. Receiving thousands of page views to date, according to Wired.com's technology manager Paul Fisher, a large part of its success has stemmed from the "embed" feature, allowing users to easily embed it within any site or blog. It has also "baked-in" several default, online celebrities as widget options to be used as a point of comparison.
Deep Dive Content Widget
Publisher: F+W Media
Developed with Impelsys' iPublishCentral, F+W's deep dive widget is used across the company's eCommerce stores. "We are nearly complete with our first batch of 1,000 widgets, with a total of 3,000 book and magazine titles anticipated in 2009," says F+W Media president Sara Domville. The same widget is used to drive traffic by appearing in blogs, social media sites, articles and promotional marketing. "We pay a per title, per month fee for each widget at a negotiated rate," she says. While there is no revenue share for F+W, there is a cost to the publisher for the creation of the material for each widget —PDF's and digital content must be put in the proper format and include the appropriate front and back matter of the publication. The majority of use is focused on enhancing direct-to-consumer sales in eCommerce stores.
Q+A Poll Creator
Publisher: SodaHead.com
Social networking site SodaHead has created a question-and-answer widget. Users can take questions from the site and create their own polls based on those questions and put it on their own blogs or profiles. Media outlets like Technorati, The New York Post and ABCNews.com have adopted this widget to feature SodaHead-generated polls on their sites.
Scavenger Hunt Widget
Publisher: Cafemom.com
Cafemom.com, a social network targeting new moms, created a stir with its laundry scavenger hunt widget. The game focuses on who can do the most loads of laundry the fastest with a tiny, moveable bleach bottle. Originally created as a widget for sponsor Clorox, it grew to have an unanticipated following. "We had tens of thousands of moms playing this game with each other—the brand was in the game experience," says Laura Fortner, senior vice president of marketing and insights for Cafemom.com. "There was even a group that had thousands of members."
SIDEBAR
App-tastic Options
Test these magazine apps out now, free to download at the iTunes App Store.
Epicurious' Recipes & Shopping List: On the Go and In the Kitchen
Publisher: Condé Nast
Function: An intelligent recipe and shopping list for users featuring 25,000 pro recipes, and a toggle between shopping and cooking formats.
Intelligent Investing
Publisher: Forbes.com
Function: Investment philosophies, global economics, Steve Forbes video series and quotes.
Seventeen's Fashion Finder
Publisher: Hearst
Function: Aimed at teenage girls, this app enables shoppers to search for fashion products by look, item, brand, cover-star picks and price. This past August, it secured the top spot in the iPhone App Store, notching 135,000 downloads.
Meet the Author
---