Former RBI Editor to Head New Association Magazine

AIMCAL's Converting Quarterly to launch in print in February 2011.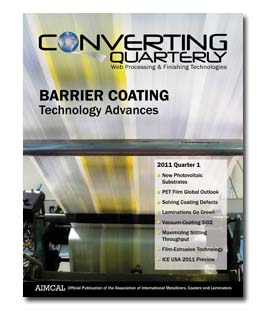 Mark Spaulding, the longtime editor of Reed Business Information's now-shuttered Converting magazine, has been tapped by the Association of International Metallizers, Coaters and Laminators to serve as associate publisher and editor-in-chief of its official magazine, Converting Quarterly. The new magazine is slated to launch in February 2011 and target the web-processing, converting and finishing industry.
The print edition of the magazine will carry a 15,000 circulation. A weekly e-newsletter called Converting Quarterly E-News is expected to be sent to 7,500.
Topeka, Kansas-based niche magazine publisher Peterson Publications will provide advertising circulation, design, production, printing and mailing support for the magazine. Peterson's other publications include InsideFinishing, Plastics Decorating and The Binding Edge.
AIMCAL says Converting Quarterly will include several technical Q+A columns and technical-journal stories on web-handling, coating/laminating and finishing processes and products. "AIMCAL decided to do a print edition of Converting Quarterly in addition to a Web site and e-newsletter because we believe that the combination of print and electronic deliverables is the best distribution platform to deliver technical content," AIMCAL executive director Craig Sheppard tells FOLIO:. "The print format not only reproduces highly readable illustrations, schematics and tables of data, but is likely to be saved for future reference by a significant percentage of subscribers. It is our view that building on the unique strengths of both print and electronic media provides the best distribution platform."
Before joining Converting Quarterly, Spaulding served as editor-in-chief of RBI's Converting for 15 years. Prior to that, he served in various roles for Packaging and Prepared Foods magazines. AIMCAL says.
Meet the Author
---