Ex-Entrepreneur Editor Lands at Business Information Web Site

Rieva Lesonsky to serve as AllBusiness.com editor-at-large.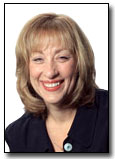 Longtime Entrepreneur editorial director Rieva Lesonsky, who recently left the magazine, has been named editor-at-large for San Francisco-based AllBusiness.com, an online business information resource.
At AllBusiness.com, Lesonsky [pictured right] will contribute a weekly column as well as a weekly podcast, "Ask Rieva." According to AllBusiness.com CEO Kathy Yates, Lesonsky's "many years of experience as a journalist and business expert instantly gives our already talented team of experts a terrific boost of senior leadership and business smarts."
Lesonsky began her career with Entrepreneur 26 years ago as a research assistant. Most recently she served as senior vice president and editorial director.
As FOLIO: reported in April, Entrepreneur parent
Entrepreneur Media is said to be on
the block. Sources say A.G. Edwards, Dow Jones and R.H. Donnelley are among
the company's potential suitors.
Meet the Author
---