Forbes Launches Women's Magazine, Web Site

ForbesWoman to be sent to 125,000 women Forbes subscribers.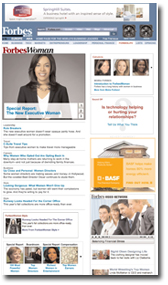 Forbes Media, publisher of its namesake business magazine and luxury business title ForbesLife, has launched ForbesWoman.
ForbesWoman—a "retooling" of ForbesLife Executive Woman, which launched in 2007—will be a cross-platform initiative, including a quarterly print magazine and Web site, which will include breaking news, regular features, in-depth reports and columns, as well as a social network.
The quarterly print magazine will be poly-bagged with Forbes three times in 2009, beginning with its May 11 issue, and will be sent to Forbes' 125,000 female subscribers. Currently, Forbes carries a paid and verified circulation of more than 900,000.
Moira Forbes, daughter of Forbes chief executive Steve Forbes, will publish the new magazine and Carol Hymowitz will serve as editor.
Initial ForbesWoman advertisers include Prudential, Marquis Jets and Chanel watches, the publisher said.
Meet the Author
---