Food News Media Launches B-To-B Restaurant Title FSR

24,000-circulation bi-monthly will enhance existing digital product.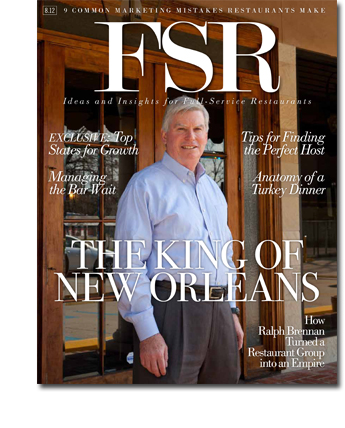 Nothing beats a well-rounded product platform. So says Greg Sanders, group publisher of Food News Media, which just launched a new print title called FSR that targets the full-service restaurant industry and is designed to compliment an existing Web-based brand called Restaurant Management, which will soon be rebranded to match the magazine.
The new magazine, which will debut in November, will have an initial circulation of 24,000 and will be published bimonthly.
Food News Media has targeted the quick-service, or fast-food, restaurant market with QSR since 1997. With the launch of FSR, Sanders says the company now targets the two main industry verticals. While Restaurant Management was first launched as a digital platform to serve the FSR market, the company quickly determined there needed to be another facet. "What we discovered is that while digital has grown, it works best when it's coupled with print," he says.  
"This might sound esoteric, but the restaurant industry, even in a downturn, continues to innovate with new products, menu items and concepts," he says. "We believe there's room in that space for reporting on those innovations. We were doing that with the digital platform, but print is still, from our experience, a highly valued commodity both for marketers and for readers. If we're going to have a complete offering, print has to be a part of it."
There are other brands targeting the same market, including Nation's Restaurant News and Restaurant Hospitality from Penton and Restaurant Business, published by CSP Information Group, which was just acquired by Redwood Investments, an investment firm led by Hanley-Wood founder Michael Wood and his son Mike Wood, Jr.
Meet the Author
---