Following Legal Battle, National Geographic Releases 'Enhanced' Digital Archive

New collection features more issues, maps, and updated navigation tools.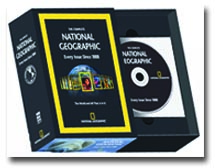 After winning a lengthy legal battle over intellectual property rights, National Geographic has re-released "The Complete National Geographic," a digital archive of the magazine on DVD-ROM and hard drive.
A pair of federal appellate courts ruled in favor of National Geographic in June 2008, officially allowing magazine and newspaper publishers to transfer their published archives to digital format and sell them without infringing on the rights of freelance writers and photographers.
The enhanced six-disc box set includes digital copies of every issue of the magazine published from October 1888 to December 2008, and features navigation allowing users to search articles, photos, illustrations and advertisements by keyword, date, byline and/or topic. In addition, the magazine has digitized "hundreds" of the magazine's signature maps.
"Every printed page has been digitally scanned at 1,200-dpi resolution, allowing users to leaf through electronic pages, search, zoom, scroll and print with a sharpness that captures the clarity and quality of the original publications," National Geographic Global Media vice president Bernice Chu told FOLIO:.
National Geographic partnered with software developer Effective UI to produce the enhanced version of the archive. The final product took more than a year and a "substantial investment" to produce, Chu said.
For more than a decade, National Geographic argued in court that it shouldn't have to pay freelancers additional royalty fees associated with the commercial sale of the first edition of "The Complete National Geographic," which was released in 1997.
The DVD-ROM box set will be available at major retailers, and at completenatgeo.com, starting November 1 for $69.95. The hard drive version has been priced at $199.95.
Meet the Author
---