FOLIO: Show Keynote: Reinventing the Magazine Launch

Hearst CMO Michael Clinton: "Old way of launching magazines is irrelevant."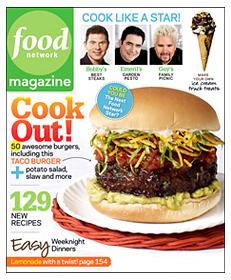 The success of Food Network Magazine is well known: In just over one year (and nine issues), the magazine's rate base jumped from 400,000 to 1.25 million as of its July/August 2010 issue. The debut issue in late 2008 boasted 73 percent sell-through on the newsstand and prompted the second largest blow-in card response in Hearst history, after O The Oprah magazine. Profitability is "within view."
But, perhaps even more significant is how the launch of Food Network Magazine is redefining how Hearst approaches new launches and its existing print titles, chief marketing officer Michael Clinton told 500 publishing executives during the opening keynote at the 2010 FOLIO: Show this morning.
"This was a sea change in how to launch a new magazine," Clinton said. "In the old days, you would hire 50 people and invest in a huge PR push. That model today is irrelevant."
Subhed: Building Circulation at Half the Cost
About 50 percent of Food Network Magazine subscriptions come from digital tools, which cost half what the traditional circ build-up used to cost, according to Clinton. Hearst is also conducting syndication deals with online providers such as AOL through which 90 percent of the acquired subscribers weren't Hearst customers before. "As time goes on, almost all of circulation will be acquired by digital tools, although that's not to say we won't do direct mail or blow-in cards," Clinton said.
The Food Network Magazine seeks a balance between a large rate base and smart growth. "We're pushing the future model of circulation and testing higher prices on the newsstand," said Clinton. "The future of magazines will require an ABC statement that is Platinum and shows 'wantedness' of the magazine. At the same time—let's not chase rate base. We don't have to be the biggest just for bragging rights but there is room for organic growth."
The Food Network Magazine launch also ushered in a complete process and workflow change including shorter production cycles, in-house design and digitization of ad materials through ad portals, which Clinton said cost 50 percent to 70 percent less than with past launches. Food Network Magazine also has the smallest magazine staff within Hearst.
While Hearst is aggressively seeking new digital outlets and a new model for print, success ultimately depends on the editorial concept regardless of the channel, according to Clinton. "We can spend all day talking about new approaches and new models but it comes back to the editorial idea."
Meet the Author
---