FOLIO:'s 2008 Manufacturing and Production Trends Survey

Publishers continue to seek new ways to cut costs and turnaround.
While talk of change in the magazine industry has been largely focused on the digital side lately, there is quite a bit of change in the process of putting ink on paper, too. Publishers large and small are seeking new procedures in manufacturing and production. Tools like ad portals and virtual proofing that promise cost-saving and increased efficiency are gaining more ground each year and offering a sizeable return in investment. Some publishers are paving the way with new standards like XML, which they're counting on to greatly cut down the production workload.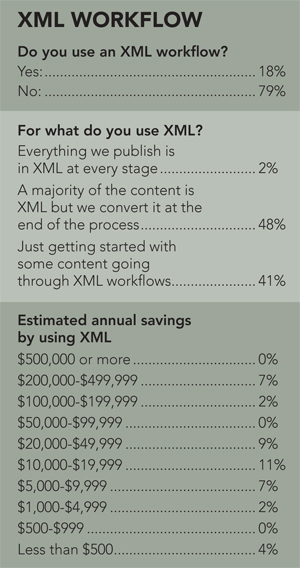 FOLIO:'s 2008 Manufacturing and Production Trends survey takes a close look at a number of these tools and standards to see which ones are taking off the most and which ones are producing the best results.
Most Investment Under $10,000
As magazine publishers continued their (mostly) aggressive push toward digital last year, they also ramped up investment in printing technology. Thirty-six percent of production management professionals surveyed say their company's investment in production and manufacturing—including personnel and technology—increased in 2007 over the year before, while only 5 percent cited a decrease. Seventeen percent of those surveyed say investment increased in the 10 to 29 percent range, while 9 percent say it increased by 30 percent or more. Forty-four percent cited no change.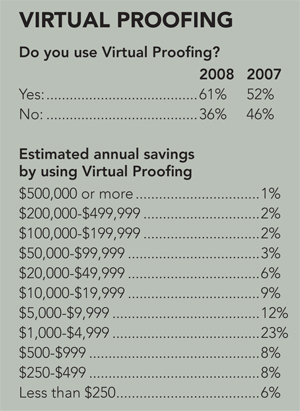 The amount of investment, though, has been relatively small. Overall, 34 percent spent under $10,000 on new production technology, while a total of 8 percent spent more than $100,000. Twenty-two percent did not invest in new print technology at all.
For most, the investment was in, as one respondent wrote, "new technology to streamline the process and ultimately cut costs." This includes new computers, software and hardware upgrades, in-house proofing systems and other tools of the trade. For others, investment was restricted to "online and e-media only: Web site enhancements, e-newsletter software, upgrades, etc."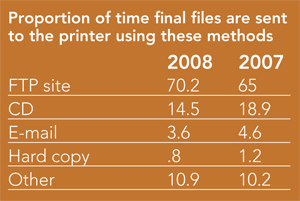 The Magic Triangle
Many publishers have been working on what Time Inc. Senior vice president of production Guy Gleysteen calls the "magic triangle" of virtual proofing, online insertion orders and ad portals. Sixty-one percent of respondents now use virtual proofing, up from 52 percent last year. A total of forty-five percent expect to start using it within the next two years, though 20 percent say they'll never use it. Use of an online insertion order system rose from 18 percent to 24 percent this year, with a total of 32 percent expecting to adopt one within the next two years.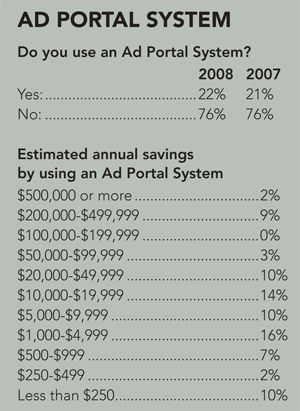 Ad portals, on the other hand, are making less headway, despite apparent cost savings. Twenty-two percent, up just one percent from last year, say they use an ad portal system while a total of 11 percent of those who do, say they expect to see savings of $200,000 or more, up from 6 percent last year.
Some of the hesitation with completing this "magic triangle" stems from trepidation over giving up too much human control to technical automation.
"Using online proofing instead of hard proofs from the printer was initially scary, especially for color sensitive pages," Elizabeth Graham, head of production at b-to-b publisher Haymarket Media, told Folio: recently. But since making the transition, she says, "we have had virtually no problems and find the soft proofing to be just as reliable or better."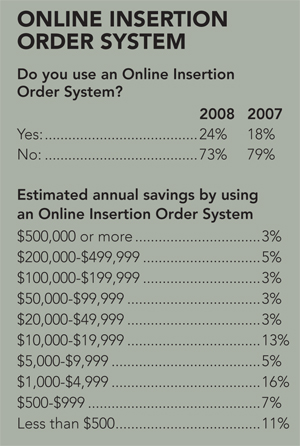 Digital Workflow Formats
PDF workflows have gained fast and widespread adoption over the past few years. Last year, 91 percent of respondents said they were using a PDF workflow, and a total of 80 percent had started using the standard some time within the five years prior. "We're streamlining our layout-to-press-ready file process to increase efficiency and decrease costs for pre-press," said one respondent.
So what's the next big thing for publishers? Seemingly neither JDF nor XML-based Job Definition Format files. Only 7 percent of respondents to the Folio: survey use JDF files. That number is up from 5 percent last year but—28 percent, up from 23 percent—this year say they'll never use JDF.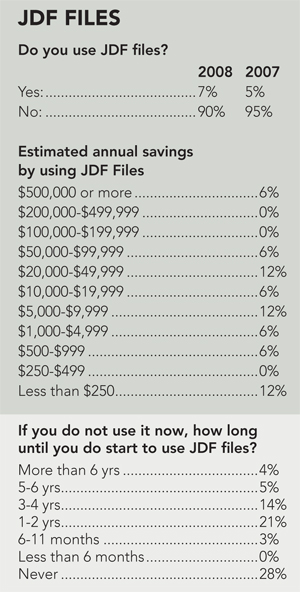 But that doesn't mean XML, or extensible markup language, as a whole isn't taking off. Eighteen percent of respondents use an XML workflow, at least to some extent, and a total of 38 percent expect to adopt the coding system—which stores metadata for flexibility and ease in repurposing content—some time within the next two years.
At Science magazine, preflight operations director David Tompkins has been working to implement a full round-trip XML workflow, which he says will cut production time in half. Lexington, Kentucky-based Blood-Horse Publications has been working with XML as well, and director of technology Luther Andal says it's helping drive revenue through what he calls "the ability of the business to rapidly repurpose content into new products for industry events."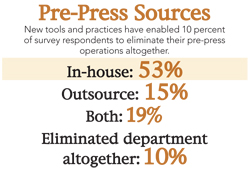 "IT resources have been able to devote their time to developing new products and features instead of having to support systems that have been automated," Andal adds.
Still, JDF is on the radar for many publishers and a major priority for some. At Hearst, director of production operations Cathy Merolle says developing a system that will utilize JDF is an "important next step" in automating the company's production supply chain.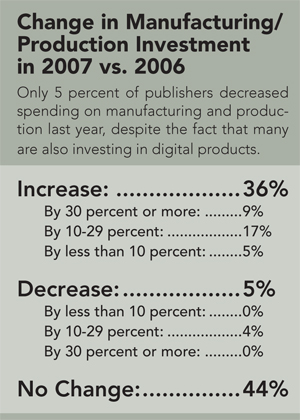 Changing Demographics
The change in respondent profiles for the 2008 survey is indicative of much of the shift occurring with print magazines.  While the percentage of titles for respondents who publish monthly remained constant at 58 percent, the number of bimonthly titles increased from 16 percent in 2007 to 20 percent in 2008, while the number of weekly titles fell from 13 percent in 2007 to 9 percent in 2008. Also, the role of production has expanded. While the number of dedicated production professionals fell from 73 percent to 54 percent, titles such as art/design rose from 58 percent to 78 percent.

METHODOLOGY
The survey mailing list of 800 was selected by Red 7 Media and included all Folio: recipients classified as art/production management or Web/electronic-media management at the time of sample selection. Materials production, addressing, mailing and tabulation were all handled by Readex Research. Data was collected via mail survey from April 15 to May 30, 2008. The survey was closed for tabulation with 264 usable responses—a 33 percent response rate. The margin of error for percentages based on 264 usable responses is ±4.9 percent at the 95 percent confidence level.
Meet the Author
---