FOLIO: Announces 2009 Growth Summit

Executive conference to focus on multi-channel growth opportunities.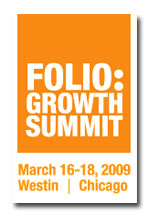 In this challenging economy, magazine publishers more than ever are looking growth opportunities across more than just the traditional media channels.
With that in mind, FOLIO: has renamed its annual conference for C-suite executives the FOLIO: Growth Summit, slated for March 16-18, 2009, at the Westin Hotel in Chicago.
Anchoring the program will be keynotes by Source Media CEO Jim Malkin, IDG CEO Bob Carrigan  and  Storm Mountain Publishing founder Brad Fayfield.
This year's event features more than 30 sessions that have been broken into two groups: one for larger publishers and one for smaller publishers. Focusing on delivering actionable ideas, more than 50 speakers will lead sessions on topics ranging from revenue and cost control to the changing organizational structure.
The conference will include end-of-day forums and the FOLIO: Editor's Trendwatch, a series of presentations featuring exclusive research and roundtable discussions.
For more information on the FOLIO: Growth Summit, click here.
Meet the Author
---