Flavorpill

Mark Mangan and Sascha Lewis | Co-Founders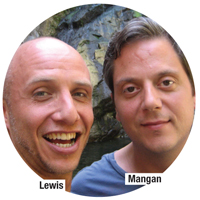 With its collection of localized weekly e-newsletters—which distill nightlife, culture and art for discerning quasi-hipsters in New York, Miami, London and other cities—Flavorpill, a New York-based Web company launched eight years ago, has built a loyal following of some 400,000 subscribers, more or less doubling each year, with estimated revenues of about $4 million in 2008.
All of which has led some people to call Flavorpill the "Condé Nast of e-mail." And, like Condé Nast, Flavorpill sets itself apart from its closest competition—which, ironically, is mainly from traditional print players like Time Out New York, the New York Times and the Village Voice in New York—with a laser-focus on quality. (Each e-newsletter is filled with local nightlife recommendations—what it calls "filtered cultural stimuli"—edited and re-edited, hashed and rehashed—and must pass an internal "taste" test.)
The e-mails have become so influential, they've been able to attract blue-chip advertisers like BMW, Bloomberg and Budweiser.
"In many ways, what we're doing with the events we list is the same as what Time Out New York or the New Yorker and other publications are doing," co-founder Mark Mangan told the New York Times in 2006. "But if you can't click to a map of where the event is, if you can't forward it to your friends, if you can't send it to your cellphone, is it really that useful?"
Mangan and Lewis are co-survivors of the dot.com crash, having launched an e-commerce company called NetSetGoods that went belly up in 2000. The pair launched Flavorpill in September of that year.
Then, after a year into doing what was essentially a full-time hobby, Bloomberg called. "The CEO who took over for Mike came into our office and told us how much a fan he was," says Mangan. "He bought advertising on the spot. We thought, 'This could really work.'"
The company has expanded to curate events—like a book party for Chris Anderson's Long Tail, a monthly party at the American Museum of Natural History (which Fader recently took over)—and other themed e-newsletters, including Artkrush (art), and Earplug (electronic music) and, most recently, the Daily Dose—all infused with a similar, distilled sensibility that is uniquely Flavorpill's.
VITAL STATS: The company's 10 e-mail newsletters have a combined 400,000 subscribers, attracting blue-chip advertisers
Meet the Author
---