Five Paper Trends To Watch For 2010

Declining paper prices may come to an end.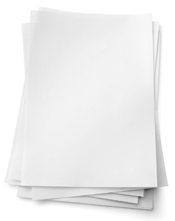 Where Paper is concerned, it's been an "interesting" 18 months in the magazine publishing industry. Just a little over a year ago, paper prices were just beginning to come off the "thank you sir, may I have another" increases that characterized most of 2007. In fact, if you recall, we were satisfied to just have paper for the next issue, never mind the price. My how things have changed in such a short time. The only good news that publishers have seen in 2009 is that paper prices have been driven down by over 20 percent  from year-ago levels, possibly helping to keep a few publications afloat in this poor economy.
1) Mills Will Try to Raise Prices While Continuing to Limit Production
But what are prices doing now? Have they stabilized, or is there a possibility of another 2007 just around the corner? It appears that the free fall of paper prices has hit bottom, and for the first time in over a year there have been price increase announcements by paper manufacturers. Manufacturers are basing (blaming) the increases on increased costs for raw material (pulp) and energy. The increased input costs are legitimate, but as in most other businesses operating in a free market economy, prices are usually determined by supply and demand. Regarding demand, there has been an ever so slight uptick in orders, but to say there is even moderate demand now for printing and publishing papers would be erroneous.
On the supply side, paper manufacturers have been curtailing supply by temporarily shutting paper machines down to limit their production. This has been done across the breadth of paper grades and manufacturers. Additionally, some manufacturers have permanently shut down entire mills, with a great loss of jobs, all in an effort to remain profitable and frankly for some, remain in business. Sappi Papers, for instance, has announced the permanent closure of its Muskegon, MI facility. Sappi produces high quality stock for magazine covers and catalogs. Kruger Paper has announced they will no longer make coated groundwood paper, effective in October, at its Trois Rivieres facility in Quebec. Unfortunately for paper manufacturers, all the efforts to stem the tide of paper have not been enough to keep up with the decline of demand. Considering the still weak but somewhat increased demand for paper and the current overabundance of supply, it remains to be seen if the announced price increases will be able to be sustained, or if they will fall apart like other increases in the past that were not backed by a strong increase in demand.
2) Tax Credits for Paper Industry To End December 31, 2009
A significant factor in helping paper manufacturers stay afloat in these rough times has ironically been the federal government.  By discovering an odd "loophole" in a government-backed environmental initiative, paper manufacturers have been able to reap enormous amounts of cash through the "Alternative Fuel Tax Credit" program. Manufactures such as International Paper have benefitted by over $1 billion. The paper industry has long used a by-product of the paper-making process called "black liquor" to help power their mills. Someone figured out that if the mills began blending small amounts of diesel fuel with the black liquor, they could qualify for the tax credits. A few in Congress have been outraged by this, because the use of black liquor has been a long and pre-existing practice by the paper industry. It is now anticipated to end December 31, 2009. Since many mills claim to be operating at or below "cash cost," it will be interesting to see what happens.  It will either result in more mills ceasing operations or prices rising.
3) Demand Will Rise
However bad the economy is now, demand, as always, will return. Magazine ad pages will come back; page counts and circulation will grow. For instance, as reported by FOLIO:, Hachette has recently announced major redesigns of some of its brands which include larger trim sizes and higher quality paper. And yes, even new titles will be launched, such as Rodale's announcement of the new magazine, Children's' Health. When demand for publishing paper does return in earnest it bears watching what will happen to prices. Although some industry experts expect that demand for paper will not return as ferociously as it has in the past, they may not be taking into account how many capacity reductions there have been on the manufacturing side.  As demand returns, prices will rise again quickly, and we could even see publishing-type paper in short supply as we did in 2007. Supply and demand conditions in the paper industry are seldom in balance. Conditions could be better characterized as either feast of famine for the mills. And when the mills are feasting, famine conditions for publishers are not far behind.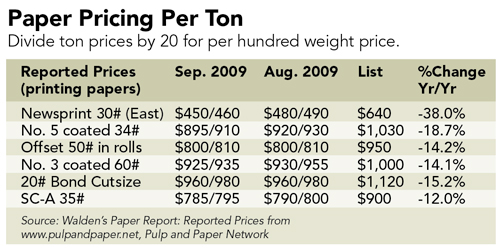 4) Paper Industry Is Now Sales Driven; New Products Are in the Pipeline
The paper industry has long been seen as "manufacturing" driven, instead of sales driven. The policy of "we'll make what we like to manufacture best and let them buy it" has changed somewhat with the dire economic conditions facing the industry. Mills are increasingly listening to what their customers want and coming up with better products that bring value for the publisher.
One such product is SCA and SCA+. These grades are "Super-Calendared," (SC) which means that they are "buffed" with an enormous cotton roll that makes it appear they have a coating like #5 coated groundwood paper. The "A" or "A+" indicates level of quality. 
Although these grades are not new, their acceptance as an alternative to coated paper is growing. According to Rick Bortolotti, general manager for Times Printing Company in Random Lake, Wisconsin, "We're seeing an increasing number of magazine publishers opt for SCA or SCA+.  For the most part, we've had excellent results printing on these grades." 
It is important however to inquire with your printer about SCA grades, because not all have achieved the proficiency yet to achieve optimum results. Not only is the use of SCA increasing, but the number of mills adding an SCA and or SCA+ grade to their product mix is growing.  NewPage Corporation has had such as product as well as the excellent "Radiance" sheet manufactured by Irving Paper. Now Verso has recently joined the group with its own SCA+ in their "Clarity" line of papers.
Other innovative papers continue to be offered by paper manufacturers including "alternative offset" paper that competes with the more expensive free sheet offerings from mills. These "alternative" products have groundwood content that makes them cheaper to produce and buy. To combat some of the low cost movements, some manufacturers are improving their products, such as Domtar's announced enhancements to their "Husky" grade line in which brightness has improved to 94, opacity has been increased and the surface has been improved through better paper formation.
5) Environmentally-Friendly Options Will Continue To Grow
For those looking for an environmental option in paper, the timing couldn't be better. Paper manufacturers across the board are adding recycled content to their grade lines in addition to third-party certifications. The third party certifications, such as FSC (Forest Stewardship Council) and SFI (Sustainable Forest Initiative) make certain that raw materials (trees and pulp) come from sustainable, well-managed forests. These certifications are more the "hot button" currently than even recycled content, although one can purchase an FSC or SFI grade that also contains recycled content. And the percentage of recycled content offered by manufacturers is increasing.  In many cases, mills offer the option of 10, 20 or even 30 percent post-consumer recycled content in some of their paper types. For third party certification, expect to pay $1.00/cwt more. For recycled content, expect about one dollar for every 10 percent of recycled content.
For publishers, the options in paper are plentiful now as mills compete for your business. And the prices are right for most of these grades. But be mindful that as the economy begins to emerge from recession, prices will be on the rise, and paper could even become harder to come by.

Dan Walsh is vice president of publication papers for Chicago-based Bradner Smith & Company.
Meet the Author
---