Finding New Ways to Use Telemarketing

How two b-to-b publishers are repurposing traditional telemarketing campaigns.
Like the media itself, telemarketing has changed—and it goes beyond cross-selling. FOLIO: talks to two companies who have tapped the reliable medium for an exciting new stream of revenue.
From Discounting to Demos
Like most telesales operations, SourceMedia used to emphasize quick conversions. The call had little chance if the target wasn't already acquainted with the product—a financial services or healthcare publication in SourceMedia's case. An emphasis on speed, coupled with customer unfamiliarity, left swift and steep discounts as the only option for marketers.
That's changed since Adam Reinebach, executive vice president of marketing services for SourceMedia, arrived in 2010. The company is focused on getting customers to take online demos first, rather than pushing them into an abrupt decision.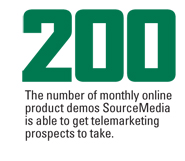 "We had more of a transactional focus," he says. "The reps were motivated to make a sale almost immediately. Today, we're identifying which customers are willing to take the demo, allowing us to further qualify leads. If you're willing to take an online demo, that shows you're a serious buyer. That allows us to build the value, and ultimately for those engaged prospects, the issue of whether you're going to subscribe or not isn't related so much to price."
Reinebach says his team is able to generate up to 200 demos per month, or about 20 percent of their qualified leads. Of those that take the demo, they're able to convert about a quarter into successful sales.
The focus on quality and time over price and speed has been successful, but SourceMedia hasn't outlawed discounting. The key is negotiating price with the right people. The discounted subscriptions weren't renewing.
"What that tells me, is that those new subs were outside of our sweet spot," he says. "When we bring that type of subscriber on board, it helps our circ, but they're really not that engaged on our site. If you don't renew that person the following year, those aren't the types of people we want to spend a lot of time pursuing."
Telemarketing as Premium Lead-Gen
Summit Business Media, a b-to-b media and information company in the insurance, financial services and legal fields, doesn't use telemarketing for itself.
Instead, led by Jeff Schottland, director of lead generation for Summit, the company is leveraging its subscriber base as a premium service for advertising partners. The move is part of an initiative at Summit started late last year to integrate lead generation and custom marketing.
Under Schottland's model, the company uses its lead generation platform to identify and call a number of subscribers who also qualify as leads for a given partner. Once on the phone, the goal is to execute a live transfer directly to the partner firm.
"That's primarily how we're drawing revenue from what you may call telemarketing—we think of it as a premium lead-gen model," he says. "Telemarketing is different in the way we've been using it and thinking about it."
The program is still in its infancy, Schottland admits. It accounts for less than 5 percent of the group's revenue at this point, but part of that has to do with finding the right partners. It's not for everyone. Costs are high and, more importantly, a company needs the infrastructure to accommodate the incoming calls. Putting a potential customer on hold kills the call.
Summit has plans to increase its use in the coming months, Schottland says.
"I think it's going to become a pretty substantial piece of our business," he says.  "Lead generation as a whole is one of the faster growing businesses in Summit Business Media and one of the more important ones."
Meet the Author
---