Financial Times Web App Gains One Million Registrants

The FT HTML app launched in June.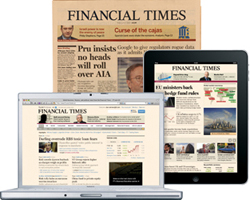 Financial Times reaches yet another milestone, now boasting one million registrants for its native web app. Apps.FT.com launched in June, after FT decided to go without Apple for its subscription-based app offering.
This number largely contributes to the Financial Times' overall mobile and tablet traffic, with FT.com gaining 20 percent of its page views and 15 percent of new b-to-c subscriptions each week from these devices.
In the week after its launch, the FT app saw 100,000 users; when the publication's subscription business officially exited the App Store at the end of August, it had 550,000 users.
FT has made no qualms about its disappointments in Apple's subscription model, citing its ownership of user data as a major drawback of appearing in the App Store. In June, FT's head of product development MB Christie said, "By not knowing who are our customers are, we can't give access to all devices, if you signed up. [Not giving the 30 percent cut of purchases] is a side benefit of not having to go through the Apple cycle. However, it would have been a different conversation if the data was available."
Christie maintained apps.FT.com's development began in 2010, before Apple's sub terms were made public.
At the time of the web app's debut, a FT spokesperson said the publisher was still in talks with the retailer, and would "continue to consider their terms".
Other advertiser-sponsored apps are still available for download in the App Store, including the Financial Times' Little Books of Business Travel and its How to Spend It app.
Meet the Author
---