UPDATE: Felix Dennis Says The Week is for Sale

But don't go falling off a cliff just yet—he wants £200 million.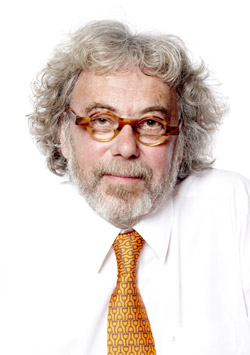 At the World Magazine Congress in London this week, Felix Dennis, the founding publisher of Maxim who sold the lad title along with Blender and Stuff—but not The Week—to Alpha Media for a reported $240 million two years ago, said in an interview that now "everything I own is for sale," including his beloved news magazine.
But Felix Dennis says a lot of things.
Last year, he allegedly told a reporter that he once pushed a man off a cliff, which promptly created a new title to look for on the masthead. Felix Dennis: Publisher-murderer. (He eventually retracted it, saying he was drunk at the time he said it.)
But, like Maxim in its heyday, Felix Dennis thrives on being brash, outspoken, gleefully unglued. This is, after all, a multimillionaire who went on a spoken-word poetry tour and overcame an addiction to crack cocaine.
I interviewed Dennis for an hourlong podcast last year. (The podcast never aired—partly because the digital recorder I was using made Dennis sound like Felix the Cat, and partly because he spent most of it touting his book, How to Get Rich—an unlikely entrant into the frothy, cluttered self-help/motivational category… It is, however, now archived here.)
I found him to be brash, outspoken and gleefully unglued—in other words, a great interview.
Here's what Dennis said in London yesterday:
"Conservatively, after doing my homework I estimate that worldwide Maxim has to date generated over $3 billion in profits for its publishers, distributors, licensees, licensors and its owners, and the actual figure may be much higher. Now, that's a chunk of change for a rag born in a smoke-filled London pub … Feel free to report back to your colleagues that Felix Dennis has lost the plot. And that as a poet he lives in a lyrical dream of the distant past and that his little company now poses little possible threat to rivals in this room, that he will not be poaching any of your best staff, who will not be scouring the world to spend his ill-gotten gains setting up titles or launching new Web sites against you."
He added: "The murderous recession of 2008/2009 and perhaps 2010, will come to be viewed for what it really was: one of the greatest financial opportunities in the history of our industry."
After his speech, he told Samir Husni that "everything I've got is always for sale, except my lover and my mother and my dog. Of course I would sell the Week. The trouble is they always offer you the same $100 million for it. If somebody comes along and offers me $200 million then I'm going to be thinking very hard."
But just because Dennis says it, doesn't make it so.
UPDATE: In an e-mail to FOLIO:, Dennis wrote: "The trouble with second hand reporting, my friend, is that you get your facts arsey-versey!  That was £200 million (pounds sterling) not U.S. Dollars." Which would make his "think hard about it" price tag roughly $300 million.
Meet the Author
---