UPDATE: Feeling the Pinch, Garden & Gun Skips an Issue

Publisher decides to skip an issue to 'help shore up business' for next year.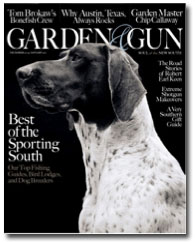 It's been a whirlwind year for high-end Southern lifestyle magazine Garden & Gun. In January, rumors swirled that it was on course to run out of money and go out of business. Less than two months later, the magazine was acquired by Indigo Acquisition LLC, a company co-created by publisher Rebecca Darwin—effectively tossing the title a lifeline saving it from going out of business.
So why haven't readers received their October/November issue? It was due out in mid-October and—nada. In an e-mail sent to readers Thursday, Darwin explained what happened:
To help shore up our business for 2010 and beyond, we recently made the difficult decision to skip our October/November issue. This was a painful thing for the G&G team, and we hate to disappoint you, our loyal subscribers. However, please rest assured that you will receive the full number of copies you ordered when you subscribed or joined one of our club levels. (We will handle that for you, so no need to call our customer service.) And know this: We will never compromise on the quality of the writing, the photography, or the beautiful paper that Garden & Gun is printed on.
In these tough economic times, it's not unheard of (or unreasonable, really) for publishers to combine or skip an issue to cut production/distribution costs. What I haven't heard of, at least off the top of my head, is a magazine that announces the elimination of an issue after the fact.
The next issue subscribers should expect is December/January [pictured], which is set to ship in late November and hit newsstands December 8. That is, if the magazine scrapes up enough money to publish it. UPDATE: In an e-mail, Darwin told me the December/January issue has indeed gone to press.
When we reported on its potential demise in January, and its subsequent saving in March, we received a number of comments praising the magazine ("the very best magazine I have ever had the pleasure of reading"). For its loyal readers, I hope Garden & Gun pulls through.
Meet the Author
---