Federated Media CEO Deanna Brown Steps Down

Founder and executive chairman John Battelle moves into CEO role.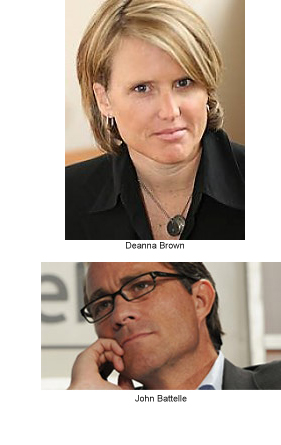 Federated Media Publishing, a network of blogs across a variety of markets, announced today that CEO Deanna Brown is stepping down after almost four years at the helm. Founder and executive chairman John Battelle is taking over the CEO role.
Under Brown's leadership the company realigned its business last year to focus on programmatic advertising rather than directly selling display ads for its blog network.
It appears Battelle's return to day-to-day management is not an interim step. Brown will be staying on through March to work with Battelle through a transition, but he'll remain the CEO going forward. 
In a  blog post, Battelle notes that Brown had approached him "earlier this year" about moving on, and after brainstorming replacement candidates, it occurred to him that running the company again himself was a better decision.
"And then it hit me—quite literally in mid-sentence while on a Board call. Why the hell don't I simply step back in?"
As for Brown, Battelle hints in his post that she'll be moving on to do something "more directly related to content creation."
In the release, Brown says, "As for me, I'll be announcing my next venture in a couple weeks, so stay tuned for that news."
The full announcement from FMP.
Meet the Author
---