Fairways + Greens Becomes GolfGetaways

Golf magazine to rebrand, focus on niche travel market and digital expansion.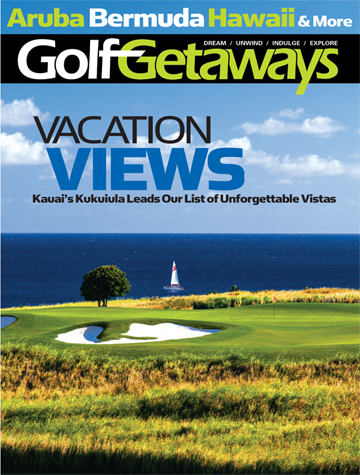 Golf publication Fairways + Greens is set to rebrand itself as GolfGetaways, cementing an editorial change to the niche travel market and coinciding with a new digital effort built around apps for Apple and Nook devices.
The changes will officially occur when its next issue hits newsstands and app stores on November 6.
Editorially, the name change signifies a commitment to the golf travel market the magazine had been moving toward for the last two years. With golf equipment and instructional markets already packed, and closing of American Express' Travel + Leisure Golf in 2009, the editor-in-chief Vic Williams says the shift happened easily.
"We've discovered that golf travel is really a strong niche for us to pursue," Williams says. "It was a combination, where it kind of happened naturally and our ad base was almost exclusively resorts and destinations. So to give it a more cohesive editorial and advertising mix, we migrated that way."
Between the move to a more associative brand name and the offer of digital access, Williams expects to see a 15 to 20 percent bump in audience for the short-term.
The print magazine, currently reaching 150,000 readers, will continue to be published six times per year, but digital issues will be available on a monthly basis. Content will differ slightly between the print and digital editions that coincide with one another, with increased interactivity, multimedia features and use of sidebar content available on devices. Digital-only issues will have a combination of original content and previously run stories that have been updated.
Print and digital access will have to be purchased separately for right now, but Williams hope to be able to provide a joint subscription option within the next six months.
GolfGetaways will also begin offering regional advertorial sections in both print and digital. While the format is "nothing new," Williams admits, distributing the advertorials regionally with expansion into primary feeder markets may turn into a distinct advantage.
To stay updated on the latest FOLIO: news, become a Facebook fan and follow us on Twitter!
Meet the Author
---