Face Up: Wired

Jennifer Hitchcock and Tom Hislop critique the January science fiction cover.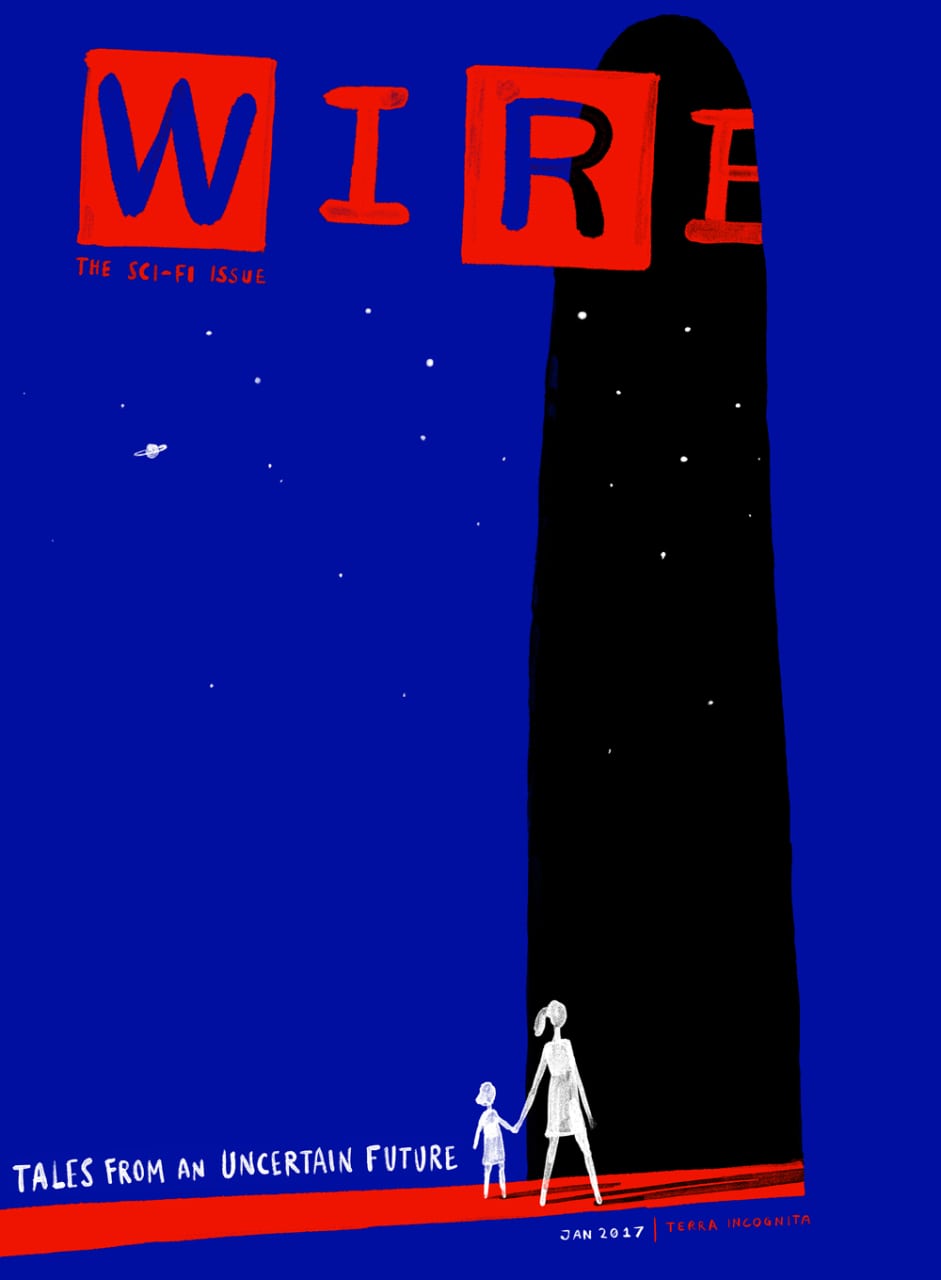 Wired
Issue: January 2017 // Editor-in-Chief: Scott Dadich // Creative Director: Billy Sorrentino // Illustrator: Christoph Niemann // Publishing Company: Condé Nast // Circulation: 870,000
---
Christoph Niemann is a familiar name in the world of illustration. The German artist has become a staple of original content on Instagram with his humorous and whimsical drawings at the handle @abstractsunday, while leaving a trail of compelling newsstand visuals for The New Yorker, New York Magazine, and a couple of times before, Wired.
So it is no surprise that his latest cover for the January issue of Wired is as unconventional as it is endearing. Niemann worked closely with then-EIC Scott Dadich and then-creative director Billy Sorrentino to design an abstract cover which touched on both the theme of the issue and the current political moment.
"With a fiction issue, you want to convey a sensibility rather than illustrating a story literally," Niemann tells Folio:. "Of course science fiction can look like 'everything is positive,' and 'flying cars,' but right now there is a darker twist on this whole story. So we wanted to do a cover which doesn't say that everything will be a disaster but which shows that we're at a moment of tension."
Niemann first hand-drew the illustration before scanning it and adding color digitally. He sent the team at Wired seven or eight concepts before they settled on the drawing of a (possible) mother and child walking into the abyss.
"I've been working with Scott and Billy for so long that we speak one language regarding what an image has to accomplish," Niemann tells Folio:. "I trust them and they trust me. That is something you cannot replace with anything."
---
Critics' Comments

I admire Wired's decision to go "off the grid" for their first cover of 2017 and their first Sci-Fi cover. In the sea of sameness on the newsstands, this illustrated cover grabs my attention. Dramatic and foreboding with both the character of a graphic novel and the hand-made expression of a zine, if feels special and bold.
As far as the cover composition, I wonder if the Wired logo is iconic enough to be truncated? I think the headline could very easily get overlooked and lost on the newsstands buried by competitors. Another concern is target audience appeal — does the Wired community of well-informed authorities of the tech-world also have an affinity for Sci-Fi? I question if there is a crossover.
My overall impression is that the cover is daring. It takes an imaginative team to have the vision to recognize that a powerful style change can attract new readers and broaden Wired'sreach.
—Jennifer Hitchcock, Art Director, The Local Palate
---
I've always been a huge fan of Wired magazine's covers each month, and this issue is definitely no exception — I love it! And the fact that it showcases the work of one of my favorite illustrators (Christoph Niemann), makes me tick even more metaphorical boxes in my head.
The first thing my eye is drawn to is the logo. The fact that it's cut off and falling into a hole of darkness re-iterates the idea of stepping into the unknown.
Another thing I love about it is the use the of color; the use of minimal tones mixed with the bright, neon orange (that can only be really appreciated in print!) emphasizes cosmic, sci-fi vibes present on the cover, adding to that sense of uncertainty for the year ahead.
This cover brilliantly tackles a concept that — considering current affairs in the world — is difficult to execute in a way that's not too dark and gloomy. Niemann's use of hand typography for everything on the cover (most importantly the disappearing Wired logo), allows the overall tone of the cover to be approachable and light-hearted.
If I was forced to make one minor critique, it would be that the coverline is a little bit small, meaning that it took me a second to register what the issue was about. However, this is only a minor detail — the longer I look at this cover, the more I totally love it.
Overall, Sorrentino and Niemann have perfectly captured the strong sense of looming darkness and uncertainty in the world in a way that's both incredibly graphic and powerful.
—Tom Hislop, Creative Director, Time Out North America
Meet the Author
---