Face Up: Edutopia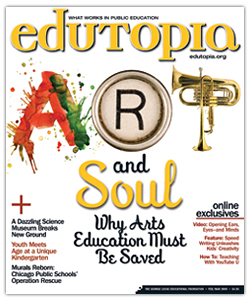 Issue: February/March 2009
Frequency: Bi-monthly
Launched: 2004
Circ: 100,000-120,000
Consulting Editor: Owen Edwards
Publishing Company: The George Lucas Educational Foundation
Creative Director: Laura Morris
"The arts in public school education are crucial—and currently under assault and on a starvation diet," says consulting editor Owen Edwards about Edutopia's February/March issue cover story.
Edutopia, a magazine geared toward public education professionals, took a different approach to this cover, attempting to "break away from the smiling faces," says Edwards. He and creative director Laura Morris wanted to create a print cover for the magazine's special report on the advantages of an arts education. "We wanted to cover as broad of a spectrum as possible with this 'ARTS' typeface," says Edwards.
Morris searched to find the right letters, shapes and objects to go on a white background. "When we chose the best combination, it wasn't difficult to piece together in Photoshop," she says. "Typically we stick to bright colors that pop." The content, and a white background cover, lent themselves to a broad color palette. "Still, everything needed to match," Morris adds.
While the cover design may seem to be a simple hunting-and-gathering of stock images, Edutopia's challenge was to convey a broad issue through the style and shape of three letters. "Vanity Fair, we're not," says Edwards. "We're dealing in some 40-plus editorial pages, which makes it difficult to cover all of the ground we want to. Therefore, the cover needed to imply both traditional and technological arts. That's why we came up with the lettering."
An earlier iteration put "ART" totally in computer keys, but the magazine wanted to expand its scope beyond writing and technology.
The final design—a paint splash to represent the visual arts, a retro typewriter key and a trumpet for music education—struck the right chord for Edutopia. "This cover was adventurous for us, and we've received a tremendous reaction from educators," says Edwards. "This is a topic that teachers of all sorts worry about."

DESIGNERS' COMMENTS
"My eye jumps around the page, not sure where to look first. The color and letter graphics compete, and putting the masthead/nameplate in a different color from the headline may solve part of this problem. The word 'Soul' works in yellow, but I'd like to see another color for the masthead. The 'A' is a bit distracting compared with the other two clean letter graphics, making the left side of the page feel lopsided and heavy. The 'A' could be made from paintbrushes to make the lines cleaner, and even out the weight of the elements. Despite this, Edutopia's cover is a creative way to tie in art, writing and music. The decks are written and organized well, and the masthead/nameplate is strong."

Stacy Vickroy | Art Director | Wise Group


"This was a great way to merge three disciplines into one visual element. Unfortunately, the same color applied to the logo and 'Soul' creates a disconnect in the headline. If the color had been used on the deck instead of the word 'Soul,' it would have further unified the headline. The cover is well-balanced, and eliminating an equal amount of copy lines would generate space to lower the head and deck to create a clearer logo/headline distinction. Overall, this is a visually playful cover that communicates the cover story."
Ana Paula Rodrigues | Art Director | Convenience Store News | Nielsen Business Media
Have a unique "cover" story? Contact FOLIO: Associate Editor Vanessa Voltolina.
Meet the Author
---