Face Up: ABA Journal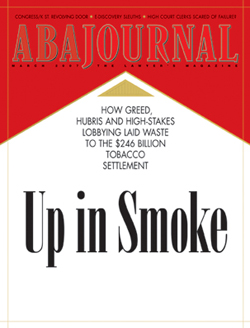 This Month: ABA Journal
Issue: March 2007
Frequency: Monthly
Launched: 1915
Circulation: 362,709
Editor and Publisher: Edward A. Adams
Publisher: American Bar Association
Design Director: Robert Fernandez
In order to illustrate the cover story for the March issue on the $246 billion settlement between the states and the tobacco industry, ABA Journal editor Edward Adams proposed using an image of 10 cigarettes standing up on their filters, burnt down to columns of ash, as if to represent poisonous candles on a birthday cake. But design director Robert Fernandez came up with another idea: Make the whole cover a recreation of a cigarette box produced by a popular cigarette brand. "As usual, Rob took a mediocre idea of mine, gently told me we could do better, and created an image on his own that really sings," says Adams.
Adams says they thought about using another brand to recreate, but decided that Marlboro's bold iconic red and white packs would resonate more with readers. "We wanted to grab the attention of readers, compel them to open the magazine, and clearly communicate what the story was about," he says.
To completely transform the cover into an image of a pack of cigarettes, the magazine's nameplate had to blend into the red top of the pack. "Because we're a subscription-only magazine, we could de-emphasize the nameplate for a month," says Adams. "I doubt a magazine that is dependent on newsstand sales could have made the same decision."
"While using a Marlboro box design is a clever concept, it fails here in execution.
The too-subtle logo color looks like a printing error. Also illegible is the tiny black skyline. The wordy cover blurb is packed too tight and is too laid back to be effective. The only thing that reads well is the headline which is borrowed from a different brand of smokes favored by Cheech and Chong."
—Bryan Canniff, Bryan Canniff Designs
"This cover's smoking! Although it doesn't have much pull if you're tired of the tobacco story."
—Don Salkaln, Successful Meetings
"What a great concept, and solid execution! At first I questioned the red on red at the top. However, having the logo in another color or white would have distracted from the overall aesthetics. Perfect cover lines and font choices as well. This is a terrific job mimicking a legendary brand in the tobacco industry. Simple and striking."
—Steven Dixon, Lebhar Friedman's Retail Group
"This use of classic iconography creates an arresting visual, packed with latent stopping power. The ambiguity of the cover lines pique the readers' interest and send a message of rebellion as well as progress. It uses the ubiquitous power of brand to drive home a point."
—Jim Nissen, SW!TCH studio
Meet the Author
---