Exhibition Industry Continues Upward Trend

4Q 2010 CEIR Index results show gains across all four metrics.
The Center for Exhibition Industry Research (CEIR) released fourth quarter 2010 results of its annual Index report today, and the numbers continue to trend upward. As in the previous quarter, all four metrics of measurement-net square feet, revenue, attendance and exhibiting companies-were up over same period 2009. Overall performance was up 4.1 percent.
In fourth quarter 2010, net square feet increased 5.6 percent over same period 2009. Revenue was 4.2 percent higher, attendance 5.4 percent higher and exhibiting companies were up 2.1 percent.
Aside from net square feet, which came in slightly higher, the other three categories trended lower than third quarter 2010. Yet CEIR points out that three of the four metrics broke the 100 point barrier, an achievement that none of the categories managed in the previous quarter. The third quarter, however, had the distinction of breaking a nine-quarter negative streak for the Index.
All eyes now will be on first quarter 2011 performance. Doug Ducate, president and CEO of CEIR, noted that the third quarter is historically the weakest and if metrics continue to trend upward through the first quarter the industry can point to a "true recovery." Indeed, Cathy Breden, CEIR's executive director, adds that while two quarters don't make a trend, a third consecutive quarter will signal a recovery similar to the one the industry experienced in 2003.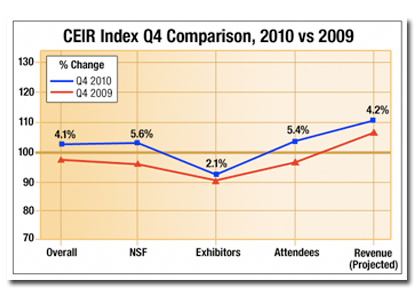 Meet the Authors
---