An Exercise in Utility

6 online reader tools helping publishers attract—and keep—more visitors.
Online reader tools range from whimsical to practical, yet all help drive engagement, time spent and offer another opportunity to secure new revenue. We profiled six such tools that are enabling publishers to secure repeat and extended visits from their readers. Whether you're looking to attract more visitors for quick problem-solving hits, or build a product that rockets your site into destination status, the following array of online reader tools will provide some insight into enhancing your content with a bit of interactivity.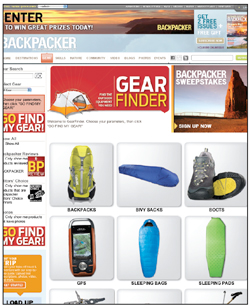 Backpacker.com
GearFinder
Backpacker.com, the Web home of the magazine of the same name, has been building itself as a destination of particular utility for hikers and campers—GPS-enabled trail maps, iPhone apps and trip-related mobile functionality. In February, its GearFinder tool relaunched with more detailed search parameters, more gear and a deeper product database.
For backpacking and camping enthusiasts, a centralized gear database complete with reviews, pricing and a wealth of product specs, is a no-brainer—and Backpacker has packed its GearFinder with more than 5,000 products from 100 different manufacturers in eight categories, says Anthony Cerratini, Backpacker.com's editor.
GearFinder originated from the magazine's annual gear guide franchise—an editorial product that just about any enthusiast magazine can produce, and a not-too-distant cousin to the market data that b-to-b magazines are known to compile, repackage and sell. "We had massive amounts of data and we thought it would be great if we could take it all, pull it into a database and make it searchable," says Cerratini.
Users can search for backpacks, sleeping bags, boots and other outdoor gear using parameters ranging from cost to weight, usage and capacity and so on. "The goal here is to offer the most comprehensive gear tool on the Web and then synch it with everything else we do on the site," says Cerratini, who adds that if there's a related review, article or video, a user can click through to those items as well.
The guide was developed entirely in-house between the producer, gear editor, designers and the development team. The interface allows manufacturers to access the database and update products on the fly.
While the Gear Finder tool provides for an enhanced user experience on the site, it also makes business sense. Usage metrics are impressive—225,000 uniques spend roughly three minutes per page—and the tool, while free to manufactures to post products, offers sponsorship opportunities.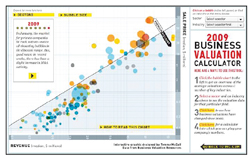 Inc.com
Business Valuations Calculator



Wondering what your magazine publishing business is worth? Inc. has the answer.
The Mansueto Ventures-owned magazine—which aims to help owners and CEOs start, run and grow their businesses—last April launched an online tool, the Business Valuations Calculator, that allows users to determine what their companies are worth were they to be sold on the open market. The calculator is an online extension of a package the magazine had been doing in print for some time.
According to Inc. executive editor Mike Hoffman, the calculator has several functions. One option, of course, is for users to plug in information about their own company—gross sales, net income, etc.—and the calculator spits out an estimated value based on the data entered. The tool also allows users to select certain industries or sectors, then the calculator provides numbers for the average transaction for a company in that space. Another option is to look at all industries and compare them.
"The tool allows a casual viewer to gain greater insight into the boom and bust cycle of the 2000s by charting the bubble in private-company valuations that occurred," says Hoffman.
Tommy McCall, the project's director/designer, says the calculator is executed in Adobe Flash. "I worked with a programmer who set up a framework that points to an XML file of the data that drives the tool," he says.
Targeting people who might be interested in selling their business, Inc. estimates the calculator so far has seen 40,000 page views and 15,000 uniques. At various points, Inc. sold standard ad units to the valuations and small business finance sections associated with the tool. "We generated revenue from this, but we did not conceive of it as a big moneymaker," Hoffman says. "Instead, we saw it as a useful tool that readers would like and that also had a certain 'wow' factor."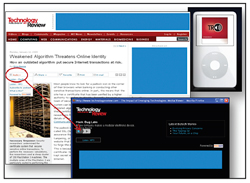 TechnologyReview.com
Text-to-Speak Podcasts



Why read a story when you can listen to it instead? That's the question Technology Review, a magazine published by the Massachusetts Institute of Technology, answered when it began utilizing technology that converts the magazine's text articles into audio podcasts that can be downloaded to an iPod or MP3 player.
"Technology Review has a menu at the top of every article with a button that allows the user to either listen to the article on a flash player or download it to their MP3 player," says chief strategy officer Kathleen Kennedy. "Readers love the flexibility of being able to download articles to their MP3 players to listen to articles on-the-go."
The text-to-audio tool launched on TechnologyReview.com in 2007 and was developed in partnership with AudioDizer, an MIT-founded start-up. It monitors the site's RSS feed to determine when new articles are published and converts the text to audio. "AudioDizer's voice engine breaks down a word into a set of sounds that when pieced together sounds like the real word," Kennedy explains. "We offer a variety of customizable features including male and female voices, languages and music that is mashed up with a sponsorship message to create each file."
The magazine says it has seen podcast downloads grow exponentially from around 18,000 to more than 350,000 per month. Kennedy says that while users access the podcasts free of charge, the magazine's revenue source comes from selling sponsorships. Technology Review has a combination licensing/revenue sharing agreement with AudioDizer and revenues "exceed costs," says Kennedy.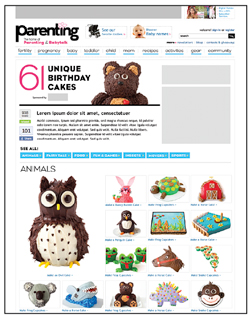 Parenting.com
Birthday Cake Planner
Most parenting Web sites have tools that parents can use to navigate their way through pregnancy and child rearing, including baby namers, height calculators and pregnancy planners that are customized by the mother's due date. One tool, however, that is more unique to the parent space is Parenting.com's Birthday Cake Planner.
The Planner is a step-by-step guide for parents looking to bake and decorate unique cakes for their children's birthday parties. There are 31 designs to choose from—master baker Karen Tack created them—and they're categorized into groups such as animals, fairy tales, food and insects.
"We worked with Karen to come up with designs that we thought would be universally appealing to all moms," says Rachel Fishman Feddersen, Parenting.com's editor-in-chief. "We thought this was a great idea because whenever a mom plans a party, no matter what, there's always cake."
In order to make things as easy as possible, Feddersen required that each design be doable with store-bought items such as boxed cake mix, pre-made frosting, candy, cookies and fruit slices. Some of the most popular designs include a fairy tale castle, a butterfly and a plate of French fries.
The planner has been up on Parenting.com for about a year and is one of the most popular tools on the site with more than 5.4 million page views in 2009. It is also the source for three of Parenting.com's top 20 search referrals last year. The site plans to launch another 30 cake designs within the next few weeks.
"I think the real strength of this tool is that it doesn't make the user work too hard," Feddersen says. "Every design is indexed and the pictures are so much fun. On top of that, the cakes are easy to make. We tried to make a real world solution for a problem that every parent has."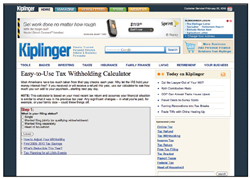 Kiplinger.com
Tax Withholding Calculator
A tool that can help users keep more money in their pockets by answering just three simple questions may sound too good to be true, but that's exactly what Kiplinger.com's Tax Withholding Calculator is designed to do.
Launched in 2006, the tool estimates how many additional allowances users deserve and whether they're allowing the IRS to take out more from their paycheck than they will owe in taxes. Users are prompted to answer three questions, which can be answered by looking at the last tax return filed. The tool is consistently among the most popular features on Kiplinger.com and gets 1-2 million instances of use annually.
"The fact is that 78 percent of taxpayers over withhold," says new media director Douglas Harbrecht. "And the average refund last year was $2,753, which is $230 a month more than required. So our calculator also tells you how much your take-home pay will increase starting next payday if you claim the additional allowances on a new W-4. You can wade through a 22-page IRS withholding worksheet, or you can try our calculator."
Word of the calculator, which was conceptualized by Kevin McCormally, editorial director of Kiplinger Washington Editors, has spread virally, but the site does promote it periodically. "We like to promote the tool at different times of the year," Harbrecht says. "A new year and no salary increase? Need extra money for that last minute summer getaway? Need extra cash for the holidays? Give yourself a paycheck raise. Try our withholding calculator."
Kiplinger hopes to upgrade the tool graphically later this year by using Flash or embedding video explaining tax withholding on the results page to provide a more satisfying user experience. "But it already has all the elements of a great online tool," Harbrecht says. "It provides a valuable payoff born out of unique expertise and knowledge in the area of personal finance. It's simple and easy to use, and it has solid backup and amplification because we provide related links to all our other unique tax content."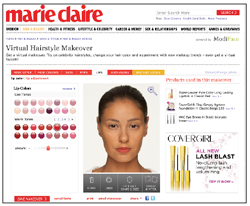 Hearst
Virtual Beauty Makeover
Launched on Seventeen.com last month, Hearst's most recent interactive tool plays on most women's desire to instantly alter the look of their hair, make-up and even weight.
The Virtual Beauty Makeover tool allows users to either choose a model or upload pictures of themselves and try on different hairstyles and make-up via technology created by Modaface. Users can adjust the shape and size of the face (if they're using a model) and once complete, compare the before and after photos. The tool will also recommend products the user can buy to complete their new look at home.
"Our first goal was to provide a tool that was truly interactive," says Mark Weinberg, vice president of programming and product strategy, Hearst Magazines Digital Media. "But then it also became a great vehicle for our marketing partners to be able to present their products and enable a transaction with our users."
Weinberg adds that users love the share function, which allows them to share their new looks via Twitter, Facebook and other social networks. They can also save their looks to their profile for future reference.
The tool is being tweaked for other Hearst sites, including MarieClaire.com, Cosmopolitan.com, HarpersBazaar.com, Redbookmag.com, RealBeauty.com and GoodHousekeeping.com. The models used in the tool change according to the site. For example, teen models are used on Seventeen.com's version of the tool, while older models are used for MarieClaire.com.
The same technology is being used on MarieClaire.com for another tool, which gives users of preview of what they'd look like if they lost or gained a few pounds. The site also has an anti-aging function on its Virtual Makeover tool that's not available on Seventeen.com's version: It allows users to see what they would look like with fewer wrinkles.
Meet the Author
---