Ex-Newsweek.com Editor Shows Up at Magazine Day Anyway

Buyout-taking Deidre Depke pulls back curtain on panel.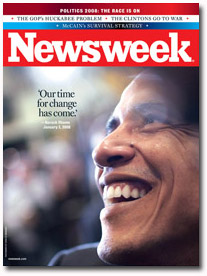 Interesting moment at New York Magazine Day—I mean, aside from the VP of Toyota Motors telling the Magazine Publishers of America chairman that magazine readers don't care about editorial ethics anymore: Deidre Depke, Newsweek.com's assistant managing editor who recently took a company buyout offer (one of many longtime editorial staffers to do so), showed up for a panel called "All Things Digital" (she was honoring her commitment, she said later). Refreshingly, Depke—perhaps because she's no longer at the company—spoke openly about the challenges at Newsweek.
Among them:
Flexibility with talent. Depke said that a chief political correspondent announced he would be taking a vacation during the recent Iowa Caucuses. "His girlfriend was on vacation, so he was, too," she said, noting that publishers should not view it as a lack of dedication. "They're dedicated to the company when they're at the company."
Poaching. Ad agencies and Web companies are "coming in" and picking off Newsweek.com's design talent "because they can pay very well."
Product "integration" and customized editorial requests from ad agencies. "It's the single biggest point of contention within our company … The only editorial asset our magazine has is its content-for us to abandon that, and let advertisers do what they want with it, would be a big mistake." When a fellow panelist suggested ASME is working on new guidelines to help navigate the increasingly murky ad-edit line, Depke quipped, "I have been hearing that for eight years."
Finding advertising support for video. Despite a relatively small but "deeply engaged" audience for its live online video offerings, Depke said getting advertisers to commit to the medium—when pre-rolls and interstitials are limited by Newsweek—is a major challenge. (She told FOLIO: as much recently.)
Print stories vs. online stories. Newsweek has 4 million print readers and 14 million readers online, leading Newsweek to rethink their silo-driven editorial strategy. "Stories are not print stories, they're not online stories-they're stories." Newsweek, like most magazines, constantly monitor how well Web stories are doing, trafficwise, and use that as a justification for putting them in the print magazine. "If a story that got rejected for the magazine goes online and zooms to no. 1, it's almost certain to make it into the magazine."
Meet the Author
---