Essence Partners with Warner Bros. for Multiplatform Rebranding, Web TV Show

Time Warner divisions team up to redesign mag's site, ramp up video.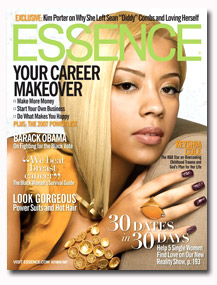 Faced with flat or declining print advertising revenues and newsstand sales, magazine publishers—even those with seemingly deep pockets—are reaching across the corporate aisle to launch rebranded products to generate revenue.
The latest: Time Inc.'s Essence Communications, which today announced a partnership with Warner Bros. Television to relaunch Essence magazine as a multiplatform brand.
First up on the group's to-do list is a late summer relaunch of Essence.com. The redesigned Web site will feature daily news, fashion and lifestyle content. It also will include ramped up video and interactive community features.
Time Inc. and the Warner Bros. Television Group are divisions of parent company Time Warner.
According to Time Inc. CEO Ann Moore, the partnership "smartly takes advantage of the complementary expertise of two premier company divisions and will undoubtedly raise the bar for online outlets targeting this influential audience."
The partnership's first video project will be called "Extra on Essence," a digital series hosted by Tanika Ray, weekend co-anchor of TV news program Extra. As part of the agreement, Extra will also contribute content to the entertainment section of the print magazine.
Video content will be produced in collaboration with Warner's Telepictures Productions, which has produced several shows including Extra, the Rosie O'Donnell Show and TMZ.com's recent foray into televisiom.
During the first quarter, Essence pulled in $25.1 million in ad dollars, up about 8 percent over the same period in 2007. Ad pages—the more telling statistic—were down 1.6 percent.
The magazine's paid circulation, for the second half of 2007, was essentially flat.
Meet the Author
---