Esquire's Surprisingly Destitute Reader

Median income: $53,783.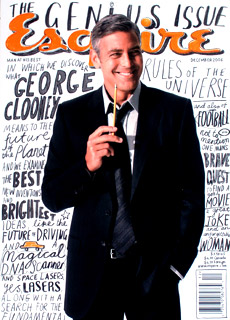 "Destitute" may be a bit strong, but this little nugget from FOLIO:'s recap of a Fall MRI report came as a bit of a shock:
Surprisingly, readers of Esquire magazine-which distinguishes itself in its online media kit by touting "while other men's magazines are written for highly aspirational readers, Esquire is geared towards men who have arrived"-have the lowest median household income for adults ($53,783) among five of its top competitors. (To be fair, Esquire's readership has seen a marked increase in affluence since 2002, when it had a median income of $42,602). Men's Journal leads the pack with a median of $77,063, followed by Men's Health ($76,865), GQ ($68,746), Men's Fitness ($68,486) and Maxim ($65,614). Esquire's readers are also the oldest of the group, with a median age of 43.9 years. Maxim is on the low end, with a median age of 28.4 for adults.
What does it all mean? Do healthy men earn more? Do gentle men have less earning power?
Do Maxim readers really have more disposable income than Esquire readers?
More here …
Meet the Author
---