Disney-Owned ESPN The Magazine 'Body Issue' to Feature Nude-ish Athletes

Editors: The issue was "journalistically driven."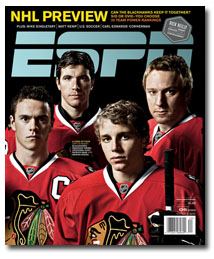 Do athletes need to be nude these days in order to sell sports magazines on the newsstand?
ESPN The Magazine's first "Body Issue" will hit newsstands on October 9, featuring more than 30 male and female athletes posing nude or semi-nude. Already, it's raised some eyebrows—enough, in fact, that the magazine decided to host a media conference call this afternoon.
On hand during the call were editor-in-chief Gary Belsky, editorial director and general manger Gary Hoenig, executive editor Sue Hovey, as well as USA Softball's Jessica Mendoza, one of the issue's athlete-models. The editors said the issue was meant as a "photographic and journalistically-driven" exploration of the athletic form. (This issue's six covers, featuring a different athlete on each, will be kept under wraps until next week, the company said.)
Content, they said, will include an essay about how athletes use sex and physicality to sell themselves, an article focused on the creation of realistic video game avatars (with vendor EA and athlete Kobe Bryant) and a story based on the staff's participation in an ACL repair surgery. And, of course, plenty of male and female athletes baring it all.
Journalistically-driven? Maybe. But, sex sells, and ESPN The Magazine needs all the help it can get. Through the first half, newsstand sales plummeted 20.4 percent, according to ABC's FAS-FAX report.
Featuring a small army of nude or partially nude athletes on its pages is tricky ground for a magazine owned by family-friendly Walt Disney Co. Competing sports title Sports Illustrated has received its fair share of flack over the years, sometimes even including protests from staffers within its publisher, Time Inc., comparing the steamy annual issue to porn.
So, is it kosher for ESPN The Magazine to have an issue with athletes like Serena Williams and Steph Davis showing skin ("It was totally up to them," Belsky said during the call) under the same parent company as FamilyFun?
"Disney is great," said Belsky. "They expect us to uphold the standards of ESPN, and aren't really involved at this level." Upholding these "standards" falls on the higher-ups at ESPN, he said. And in case you thought that the "Body Issue" was beginning to sound like a more extensive, glorified version of SI's much anticipated annual, one of the Body Issue models, NASCAR driver Carl Edwards, told USA Today that if it takes off with readers, it could become an athletic version of the SI Swimsuit Issue.
When I asked Belsky about this comparison, he didn't directly confirm or deny it, but said that the creation of this issue was "driven by a longstanding interest" from ESPN The Magazine and "something that we think we can come back to year after year."
One thing that definitely won't be the same as SI: "Even though this issue will be provocative and sometimes sexy, it's still journalism, so we're not looking to create ancillary products like a calendar," he said.
Meet the Author
---