ESPN The Magazine Launches Own Web Site

Executive editor: 'It was time.'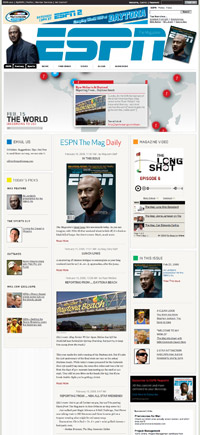 After 10 years in print, ESPN The Magazine is finally getting its own Web site. Today, the company launched ESPNthemag.com, the first site dedicated exclusively to the magazine.
"It was time," says Robbyn Footlick, executive editor of multimedia. "A big ESPN initiative right now is focusing on developing all its content across all its platforms, so now seemed the right time to build out the magazine's content online, including video."
The new site has been programmed like a TV network, Footlick explains, with a focus on what she calls "lunchtime programming" and updates throughout the day through blogs (what appears to be ESPN's most aggressive blogging initiative to date) and a news infographic called "The World According to Us." The site also features magazine content, online-exclusive stories and video.
As part of the magazine's 10th anniversary, the site includes a separate anniversary channel, featuring an interactive gallery of the more than 270 covers since the magazine's launch.
"The magazine has a different feel than the rest of the ESPN site and we really needed to represent that," says Gabe Garner, director of interactivity for Sarkissian Mason, the firm that developed the site. He says the process took about six months. "We took a ground-up approach to the design and architecture of the site. We first needed to find ways regular readers of the magazine could get the print content they're used to online. Then, we began to add rich media flourishes like 'The World According to Us.' That became a real centerpiece for bringing the magazine's unique voice to the Web."
The site was soft-launched on Friday.
Meet the Author
---