ESPN 'Body' Issue a Quick Subscription Boost

Publisher's paid online site gains 400 new subscribers in less than 24 hours.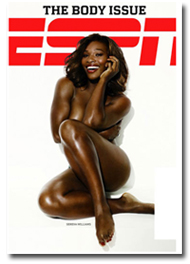 I don't think anyone doubted that the throng of semi-nude athletes appearing in (and on the cover of) ESPN The Magazine's "Body Issue," which hit newsstands October 9, would raise some eyebrows, and maybe help turn a few pages among the title's readership.
The better question was how ESPN would capitalize on all the attention. At the Magazine Publishers of America's Innovation Summit Thursday, ESPN Publishing's general manager and editorial director Gary Hoenig shed a little light on the results. While newsstand numbers haven't been counted, he said ESPN's Insider—the paid content arm of the ESPN the Magazine Web site—saw 400 new subscribers within hours of the Body Issue content being posted online.
Since ESPN Insider subs cost $39.95 a pop, after some quick, unofficial math one could assume the publisher hauled in close to $16,000 in just one day. That's not too shabby.
So, was there any blowback? Did any angry parents or religious types call up to cancel their subscriptions? An ESPN spokesperson said she didn't immediately have those numbers handy.
Meet the Author
---