Entrepreneur Goes on the Block

President denied sale talk last week.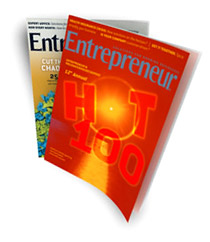 Entrepreneur Media—the Irvine, California-based publisher of Entrepreneur magazine—has gone on the block.
The asking price is $200 million, according a report by PaidContent.
As recently as last week, Neil Perlman, president of Entrepreneur Media, dismissed the notion of a sale, telling FOLIO: the company is always looking for "new capital to expand and grow our business."
The company has retained media banking firm DeSilva + Phillips. Last week, Reed Phillips, a managing partner at the firm, declined to comment and refused to confirm or deny Entrepreneur was in play or is even a client. Phillips did not immediately return an e-mail seeking comment today.
First round bids, according to the report, are in, though it is unclear who those bidders were. A FOLIO: source said that Time Inc. would be a likely bidder, but suggested that Mansueto Ventures—the New York-based publisher of Inc. and Fast Company led by billionaire Joe Mansueto—would be the most logical suitor for Entrepreneur.
Mansueto is already working on the launch of Upstart, a magazine for entrepreneurs. But in an e-mail to FOLIO:, CEO John Koten denied any interest in acquiring Entrepreneur. Last year, Mansueto lost out on its bid to buy Business 2.0 before Time Inc. folded the magazine. "Yes, we talked to them, and we made a serious offer," Mansueto Ventures CEO John Koten told FOLIO: in September. "I think it was tough to do a deal because, even though we are a flea compared to Time Warner, we're competitors in the business magazine arena."
Advertising revenue for Entrepreneur was $94.5 million in 2007—flat (down 0.1 percent) over the previous year, according to the most recent Publishers Information Bureau figures. Ad pages dropped 6.6 percent (to 1,238.74) last year. Entrepreneur's total paid circulation average—609,765—was flat for the second half of 2007, according to the latest Audit Bureau of Circulations FAS-FAX. Its single copy sales average, which make up a fraction of the magazine's circ, increased 13.1 percent to 48,238. Perlman, however, said the company is "bucking the trend in a down market," citing growing online revenues.
At this point, it would be a sale of a magazine without an editor. Rieva Lesonsky, editor-in-chief of Entrepreneur since 1987, recently announced plans to leave the magazine to launch a marketing company. Her last day is April 15. "It was time," Lesonsky said last month.
Meet the Author
---