Entertainment Weekly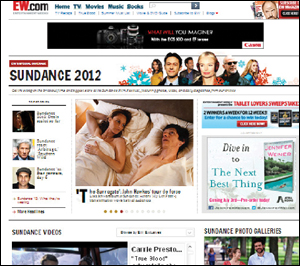 Eddie Winner: Best Online News Coverage, Consumer and Best Single Article Consumer/Entertainment
"We have a deeply integrated staff—it doesn't matter if your primary responsibility is to the magazine or for the website, we're one brand on two platforms," says Bill Gannon, managing editor of EW.com. "If our reporters see a story happening on their beat, and we have both beat reporters and generalists, they know that if it is news their first obligation is to get it online."
Gannon says reporters work with Entertainment Weekly's [EW] online team to make sure stories are produced with efficient speed and context so it is meaningful content to the users.
The editorial staff tries to practice enterprise journalism as much as possible, not waiting for news to hit or a press release, but getting ahead of the news.
"We try to live in the digital-now," he says. "It's about observing and looking to see what users are interacting with on our website, online or in social media. We're always looking to try and stay engaged and ruthlessly current."
EW tries to take usual events and do more with them. With ComicCon, for example, the brand live-streamed three days of non-stop coverage, and reporters looked for small moments during the colossal festival that are tantamount to the larger event.
"We think what we do is important," adds Gannon. "We get that it's not rocket science but at the same time we take the entertainment journalism we do very seriously. We try to break a lot of stories and put those stories into context."
Meet the Author
---