Enterprise Publishing at Work

In efforts to locate publishers who actually achieve Enterprise Publishing, I found one publisher who comes closest to adhering to the basics of Enterprise Publishing, either fully achieved or in the process towards optimal implementation. The requirements are:
• Operates with complete and seamless integration with dynamic interchanges (and built in safe guards) in real time across all applications.
• Ad systems including Sales/Marketing, CRM, and Ad Production; and including the capability for receiving/processing of the electronic insertion order from advertisers/agencies.
• Editorial Management and page layout production tracking systems; and including DAM and CMS ("Editorial").
• Circulation and their Fulfillment Systems and other Distribution Systems.
• Production Systems including the Map, Production Schedules and other management/planning systems ("Production").
• Interface to printer's CIM systems including electronic manufacturing order by Publisher to Printer ("Printer interface" or "Printer' System") and publisher's Print Order.
Reed Business Information USA (RBI) has gone far toward achieving Enterprise Publishing. But it has been a collaborative effort with their printer, Fry Communications, Inc. as well as dataplan GmbH, RBI's Germany-based software developer.
To overview how Enterprise Publishing works for RBI, we provide the illustration on the next page of Reed Business Information's Vision of Enterprise Publishing.
The Role of the Map: As you can see, outside of Accounting applications, the system that touches the most other systems is the electronic map (a dataplan application), which can provide planning and production tools to augment most other systems, as well as use data those systems can provide, e.g., ad booking information from the ad system at the publisher.
And, particularly with a magazine running heavy version makeup that is also tied into the correct circulation system (including printer and even the complete print order by the publisher for the printer using dataplan software) provide counts by version that a robust mapping system can use to lay out complex geo/demo versions cost-effectively, exporting said information to the printer.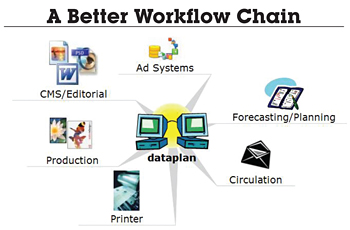 RBI benefits from dataplan's JournalDesigner ("JD": the map itself) and JournalProducer ("JP": the underlying database, but also the backbone of Enterprise Publishing, and containing applications of its own, including production schedules as a schedule and tracking system, as well as integrated manufacturing between RBI and Fry.)
Editorial (along with ad) systems can interact with the map to provide images of page elements in order that map users or viewers can see paginated proofs – in addition to page metadata – of the magazine on-screen to, e.g., avoid unpleasant image graphical conflicts.
The map can be presented in map form and as a production/purchase order for the printer's CIM.
In the following we focus on related systems and their functions working with other publishing IT resources.
Circulation System: historically, many publishers have relied on subscriber fulfillment houses to take and process orders, providing labels, counts, and related information to the printer for preparing mail and turning over to the USPS.
This is changing, however. For example, John Blanchard, vice president of operations RBI, indicates that "RBI uses a fulfillment house for paid subscribers, but has their own internal controlled circulation fulfillment services for non-paid subscribers. In both cases, print orders containing versions and counts are created through a centralized service. They are now using dataplan to query the list management systems of these entities in order to create a print order through the system. This allows them to use the system to manage all aspects of magazine production, from layout, cost management and product definition through manufacturing instructions. In essence, dataplan is the production manage-and-control entity we have envisioned for years."
Ad/Sales/Marketing: To be used correctly, the map contains considerable information about an ad that can be exported back to the ad system: including page folio(s) (including special folios for multiple versions) that ads run on, relative placement to competitors, helping to control color inline conflicts, etc. But the map, even without an ad system, can perform the key ad booking entry and output.
Editorial System: The need for specific software programs revolves around the size and market sophistication of the magazine(s) being published in terms of editorial page counts, particularly for geo/demo versions. We include DAM here as well as CMS even though advertising might also be tracked and therefore may be the responsibility of another department in part or whole.
Blanchard continues, "RBI's vision is to have a centralized repository of content, and a workflow management and control system that allows centralized resources to develop products, both print and on-line and monitor their development through manufacturing and publishing channels."
Other production systems as mentioned above may actually be a part of the mapping application.
Paper management benefits from the map through the map's ability to track paper requirements (for ordering and receiving and comparing everything to actual usages). Alan Snyder, the project's operations manager at Fry, foresees that "as the issues develop, allocations can be secured, and modified on the fly as issue complexions get established. Still reliant on actual usage values to conclude, but allocation, inventory, and ordering can certainly benefit."
In that vein, the map also will include a robust and 100 percent accurate budget, estimating and cost tracking tool for expenses emanating from the printer and including paper that the publisher furnished. But also postage and newsstand: in combination these are generally referred to as the manufacturing and distribution expenses of a magazine. And as mentioned, budget issue estimates and finally issue actuals are generated frequently: annually and even with quarterly and ad hoc updates starting with budget figures for ad and editorial makeup and circulation figures those departments provide.
The appropriate mapping application should provide these tools, as is frequently the case with production schedules as previously covered: why? The extent of shared data.
How Enterprise Publishing Contributes to the Printer's CIM:
Snyder states that, "as the recipient of the publishers instructions we see a wide array of formats, and varying degrees of detail. Often many details get ironed out via e-mails, phone calls, and similar. Obviously, it's nothing new to state the inefficiencies and degree of error-prone are at their peak in these situations."
In an effort to help standardize, or "clean up" these supply chain touch points, Fry integrated the supplied data from RBI via dataplan, which fully defines the print order, reaching down into all relevant operations, and supporting instructions. "At the onset we were asked by RBI; 'What do you need to know, and when do you need to know it?'" says Snyder. "We set three core objectives; automate prepress processes (Phase I), automate Press forms, signatures and page details for job ticketing (Phase II), and lastly completed print orders, with final quantities, and distribution, also to be absorbed into the job ticketing. We are through Phase I, and Phase II, and are nearing beta release on Phase III."
What are the benefits of Enterprise Publishing in General?
There is one expression I have heard the most since my early, 1981, introduction to computers: "Enter Once, Use Many Times." That is still the essence of software integration. But you cannot understate what this means in terms of the quality of work life: (simplified or eliminated clerical workloads. Better information that your company now has, not only of its customers, but equally its own operations. The impression that what you are doing is making a greater difference to your company): job satisfaction should not be underestimated in these most difficult of times.
The Specific Benefits of Enterprise Publishing at RBI
Blanchard affirms that "these are clearly in the efficient management of the manufacturing process, through efforts on coordination of all activity leading up to printing, binding and mailing. Coordination of schedules, as well as efforts to standardize products, facilitates co-manufacturing. This pooled approach to printing, results in the best utilization of available capacity through the printers process, resulting in cost efficiency."
Blanchard continues that "RBI retains strategic oversight of the process and of costs, and defines what is to be manufactured, but allows them to focus on core competencies, while cost effective outsource and off-shore processes ensure costs are kept to a minimum. RBI staff have become great process managers, with less hands on and resulting expense."
Blanchard concludes that "the whole re-engineering of the print process at RBI has revealed the benefits of centralized content and workflow systems such as CMS, DAM and dataplan production manage-and-control capabilities. Interfacing these systems has resulted in great process efficiency."
Expanding the Enterprise
Snyder concludes that, "as a natural extension of the integration and automation of these publishing processes is the re-purposing of this data, and assets, as applicable. In the print manufacturing step, the goal is to get precise information, comprehensive of all the required details."
This becomes the tricky part, Snyder continues, as there are thousands of details to produce a single-issue publication. "Beyond the obvious of re-keying data, is the more subtle details managed typically through other channels, e.g. e-mail, phones, or worse 'notations," he adds. "Fundamentally there is a finite amount of information required for any operation in print manufacturing. The hard standards around many of these are not fully defined, and requires a very logical evaluation of the process, and it's independent and dependant relationships to other manufacturing steps."
To truly realize the value from the effort, it becomes critical that these details are integrated. Fry and RBI have focused heavily on this piece. "We are very pleased with the dataplan solution to capture these details, and structure the data exchanges with virtually any MIS," says Snyder. "Beyond the gains achieved within the publishing side, the management of print orders, costs and times enables new opportunities for quicker turn around, and deep integration of this data into the relevant 'nooks and crannies' scattered throughout the print manufacturing processes."
Bert N. Langford: is U.S. Representative and advisor for dataplan GmbH, following comprehensive experience in printing and publishing, as well as consulting for magazine publishers, including author of a book published by Folio: "Working With a Magazine Printer." Bert can be reached at blangford@dataplan.de.
Meet the Author
---