The End of the $400,000+ CEO?

Publishing execs are expecting lower compensation. And it may not be temporary.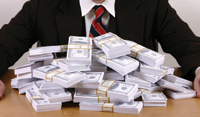 Salary cuts are the norm for many publishers these days and the executive level is often the first hit before it trickles down to the rank-and-file. However, lower overall salaries and bonuses may be the new reality for C-level executives, and not just because of the current economic climate.
Just 28 percent of respondents to FOLIO:'s 2009 B-to-B CEO survey expect their compensation to increase in 2009, compared to 55 percent in 2008. Fifty-three percent expect it to stay the same, compared to 36 percent in 2008. However, 14 percent expect compensation to decrease in 2009, compared to 4 percent last year.
More than 80 percent of b-to-b executive compensation is coming from salaries, compared to 74.7 percent in 2008. Bonuses account for 11.4 percent of total compensation in 2009, down from 14.8 percent in 2008.
Obviously, with CEOs such as Advanstar's Joe Loggia earning more than $3 million a year (according to the company's last 10K report in April 2007), there is a wide range in executive compensation depending on market and company size. But executives in charge of small- and mid-sized publishers (in both b-to-b and consumer) could face a declining pay scale.  
No More Easy Money
While the advertising sales slump is an obvious reason for declining C-level compensation, there's another that may have almost as much impact—the drying up of funding from outside sources, such as private equity and debt. The so-called "easy money environment" of the last four years not only boosted valuation multiples but also drove up CEO compensation.
Some owners can't give stocks or options away anymore, because their current equity is so far down that a next wave of equity won't be worth anything anyway.
"The opportunity for total compensation has been scaled back," says Mark Dacey, partner at executive search firm Heidrich & Struggles, and former president of the marketing and media division of VNU (now Nielsen). "Bonuses tied to company or individual performance—which can range from 25 to 100 percent of salary—are harder to come by. Compensation levels are generally related to company size, with the private or private equity-backed companies less reliant on base salary in favor of performance-based incentives."
More Digital = Lower Salary?
Any CEO worth his or her salt is pushing for a smart digital strategy right now. But smart or not, that could mean less overall executive compensation since most publishers' overall revenue will probably be smaller, at least for several years to come.
"The print business has always been such a large part of the P&Ls that owners have been able to fund compensation for growing online or other stuff with the profits from print," says one former publishing CEO. "But with that availability of funds being under such pressure, you kind of get to the point where a publisher can't even fund growth of other parts of the business, like online. The margins of online are nice but there's no scale there for the smaller publisher. It's a real puzzle."
Still, the CEO who can lead their company through a healthy transition (think IDG's Bob Carrigan), will be rewarded, perhaps even more than his or her peers. "I would not say we've seen an appreciable reduction in base salaries," says Dacey. "As matter of fact, when you look at the digital imperative today, we're seeing a premium for well-rounded, well-qualified candidates for monetizing digital platforms."
A New Talent Pool
As publishers increasingly look for a digital-savvy CEO, the executive-level demographics are going to get younger and more female, and they will probably be paid less than their predecessor (at least in the beginning). There will be a premium on building audience, selling information and data (as opposed to giving it away). Says one observer: "No premium is placed on an old dog who has sold print for their entire careers."
Meet the Author
---