eMagazines.com Offers Sales Tracking Options for Digital Editions

Service includes newsstand, affiliate network for additional marketing.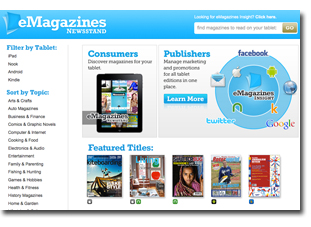 Just as publishers are learning what print content doesn't successfully translate in the digital sphere, they are re-navigating digital marketing techniques. To that end, eMagazines.com is helping publishers not only make more digital sales, but refine the promotional process.
eMagazines.com, a sister company of subscription agency ValueMags, offers a three-prong approach to digital selling: an eMagazines.com newsstand, which aggregates all available digital titles and buying options (with links to the publisher's site, the App Store, the NOOK Newsstand, etc.) into a central location; an analytics and tracking solution; and an advertising network.
"We've developed a system that lets a magazine source IDs and track IDs through URLs," says Andrew Degenholtz, president of eMagazines.com. "When publishers use a URL in a promotion through email, website, Facebook, twitter or a banner ad campaign, we help source any orders that come through those URLs."
This information is fed into a dashboard, which organizes the information. Publishers can hone in on how many clicks a campaign obtains, how many sale converts amount from click-throughs and explore the relationship between an ad and type of sale (subscription vs. single copy).
The affiliate advertising network is still under works, with about 100 of the expected 1,000 affiliates officially vetted through eMagazines.com' regulations. Degenholtz explains the process as a laborious one, as each website must be reviewed by eMagazine.com staff before it's added to the network. Affiliates are gathered through company outreach, and Degenholtz says many affiliates approached them with interest to participate.
As for pricing, eMagazines.com's services are free, "except for the incremental sales we drive for publishers," says Degenholtz. A 20 percent commission is applied for sales; if an affiliate makes the sale, the third party keeps 15 percent, eMagazines.com takes 5 percent and the publisher pockets the rest.
Bob Cohn, consumer director of marketing with Bonnier, explains why his company signed onto the service, "The original impetus is looking for new ways to sell digital copies and digital subscriptions. It's in the iTunes store, but it's crowded. We have our existing population universe, but we want to reach out to new groups that aren't already in our brand."
Cohn explains a tracking pixel is imbedded into promotional pages, which records the sale if it occurs within three days of user discovery. If the sale is made after this period, it isn't recorded in the eMagazines.com system.
Though still early days, Cohn is already seeing patterns forming from eMagazines.com's services: email conversions for various Bonnier titles range from 5 to 10 percent.
Cohn says, "The real value of emagazines.com is not going to be one stat, but the trend lines of how the conversion rates or downloads next month compare to this month, or week by week. It enables us to test creative: different copy and offers, and measure in a crude way the response we get. It's a start."
Meet the Author
---