EH Publishing Purchases Bobit's Security Brands

For Bobit, the sale means an exit from the physical security market.
EH Publishing, Inc. acquired Security Sales & Integration (SSI) and Campus Safety magazines from Bobit Business Media, Inc., which looks to exit the physical security market.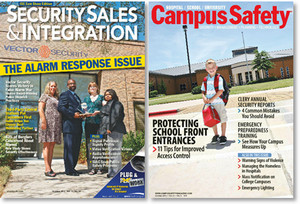 "It's a move that's as bittersweet for us as it is strategic," says Bobit CEO Ty Bobit in a release. "Our management team is committed to a market focus strategy where we continue to grow and add value primarily in our core markets."
With the disposal of two of their security brands, Bobit still retains law enforcement titles, Police and Police Recruit, while continuing to serve four other markets: Automotive, Automotive Aftermarket, Ground Transportation and Beauty.
For EH Publishing, which provides information for the technology-related markets, the two new acquisitions fit well with the company's portfolio of dealer-centric and commercial end-user publications.
"Security is an integral part of virtually every market we serve," contends EH Publishing President Ken Moyes in a statement. "Acquiring SSI and Campus Safety ensures we can bring these audiences cutting-edge business and technology information related to security and safety."
SSI, founded in 1979 as Alarm Installer and Dealer magazine, caters to residential and commercial security dealers and currently reaches more than 28,0000 security professionals. The title joins CE Pro, Commercial Integrator and Channel Pro in EH Publishing's dealer-centric portfolio.
Campus Safety maintains a circulation of approximately 18,000 security officials and administrators at schools and hospitals. The title adds to the company's commercial end-user collection of brands alongside Worship Facilities Expo, Live Sound, Pro Sound Web and Tech Decisions.
The terms of the deal were not disclosed, but EH Publishing did reveal a homecoming of sorts for newly appointed SSI publisher Steve Nesbitt, formerly publisher for CE Pro and Commercial Integrator. He will work alongside veteran SSI editor-in-chief Scott Goldfine.
 
Bobit's unloading of SSI and Campus Safety and its market shift dovetails with its 2012 acquisitions of Auto Dealer Monthly, LLC's magazine and digital assets, LimoForSale.com portal and Newport Business Media's publishing properties Heavy Duty Trucking, TruckingInfo.com, Heavy Duty Aftermarket Journal, and the Newport Poster Network.
Meet the Author
---