Efrem "Skip" Zimbalist

CEO | Active Interest Media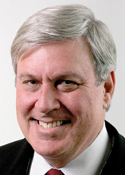 Active interest media kicked off 2009 by entering into a unique no-money asset swap with fellow niche-market publisher F+W Media. The deal, according to AIM CEO Efrem "Skip" Zimbalist, allowed both companies, at no cost, to consolidate their product offerings in the ailing home market and art market, in turn enabling them to better capitalize on dwindling ad dollars in those markets.
"The log home market, from an advertising and event and magazine point of view, was oversaturated," Zimbalist says. "The thought was how could we better serve the customers in an economic way and without trashing the revenue. We decided to combine the two companies and take out a lot of cost without losing revenue. We'll save money and advertisers can still cover the market and save some money, too."
As part of the deal, AIM acquired F+W's log and timber group, Home Buyer Publications, as well as F+W's Log & Timber Expo and the Log & Timber online network. F+W acquired AIM's Southwest Art, The Collector's Guide and their respective online properties. Following the deal, AIM shuttered Log Homes Illustrated and Timber Homes Illustrated. F+W agreed to fold Timber Homes Illustrated.
AIM will also ramp up its lead generation efforts by expanding a tourist information program for Yellowstone Journal, which the company acquired last fall. Readers sign up online and receive a package of brochures from area businesse.
"We'll be putting the names and addresses of people who are ready to buy into the hands of our customers," he says. "Advertisers can't cut spending altogether so we'll have to guide them in spending in ways that will help them generate sales and savings."
Where They Will Grow: By consolidating the log homes market, AIM expects to strengthen sales at existing products. Ramp up lead generation and other "measurable" media product offerings.
Where They Will Save: Printing and postage costs on shuttered magazines. Looking to cut marginal circulation and reduce other capital expenditures.
 
Quote: "In this market, companies are cutting spending 10, 20, 30 percent. Our objective is to not have that not come out of our products, or at a less than proportionate amount come out of our buy. There's a lot more pressure today to be more creative than the competition."
MAIN PAGE
Todd Matherne CEO | Renaissance Publishing
Toyin Awesu publisher and editor-in-chief | AvenueReport.com
Cameron Brown president | King Fish Media
Deborah Esayian co-president | Emmis Interactive
Justin Smith president | The Atlantic
Steven Kotok general manager | The Week
Len Burnett co-founder, co-CEO | Uptown
Risa Crandall VP | Scholastic Parents Media
Janet Libert editor and publisher | Executive Travel SkyGuide
Mike Domke founder and president | Milo Media
Jim Prevor CEO | Phoenix Media Network
Kent Brownridge general manager | OK!
Samir Arora CEO | Glam Media
John Sateja EVP | Consumer's Union
Jim Vick staff director/publisher | IEEE Spectrum
Pete May president | Greener World Media
Barb Newton president | Sunset Publishing
Paul Mackler | CEO | HMP Communications Holdings
Harry Sachinis | president | McGraw-Hill Business Information
Meet the Author
---