Editor Leaves, So Condé Nast Shutters Magazine

Susan Reed exits Golf for Women for Oprah; company decides to fold title.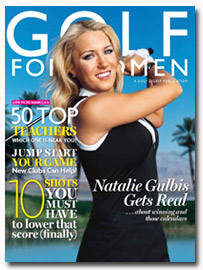 Susan Reed, editor of Condé Nast's Golf for Women, announced on Monday that she was leaving the magazine to become editor-in-chief of O, The Oprah Magazine at Hearst.
But instead of announcing a search for her replacement, Condé Nast announced that it would shutter the 600,000-circulation bimonthly magazine.
"We came to this decision because we feel the magazine will not support our long term business objectives," Condé Nast president and CEO Charles Townsend said in a statement. Roughly 30 jobs will be affected, according to the company. The July/August issue, currently on newsstands, will be its last.
It was an abrupt about-face for a company that prides itself on developing editorial talent—and, more importantly, lines of succession. But it's not the first time that the departure of a top executive has led the company to close a magazine. In November, Condé Nast decided to fold House & Garden after Joe Lagani, the magazine's publisher, left for a high-level position at Glam Media.  "With the unexpected departure of the publisher of the magazine, we decided to take a serious look and re-evaluate the title," Townsend said at the time. "Our investment in House & Garden throughout the years has been substantial and we no longer believe it is a viable business investment for the company." 
Yet Golf for Women had become a distinct—and increasingly costly—title for Condé Nast, which publishes Golf Digest. Through March, Golf for Women's advertising pages were down a whopping 34.9 percent, according to Publishers Information Bureau figures. Ad revenue was down over 26 percent. (According to Condé Nast-owned WWD, ad pages had declined 7 percent through the July/August issue.)
Golf for Women was launched in 1998. Condé Nast bought the magazine from Meredith in 2001. Reed had served as the magazine's editor-in-chief since 2002.
At Hearst, Reed will replace Amy Gross, who is retiring, the company says. O, The Oprah Magazine has reportedly seen a 10 percent drop in circulation over the last three years. Ad revenues increased slightly to $57 million during the first quarter this year over $56.3 million during the same period last year. Ad pages remained flat at about 382.
Last week, Hearst announced that it will shutter Quick & Simple at the end of the month.
Meet the Author
---