E-Commerce Spending Up to $50 Billion in Q42011

U.S. retail spend reaches $161.5 billion last year, per comScore.
Publishers have reason to increase their e-commerce focus, according to data recently released by comScore. The digital analytics provider reported that e-commerce spending increased 14 percent YOY in fourth quarter 2011 to $49.7 billion. This number marks the fifth consecutive quarter of double-digit percentage growth in U.S. e-commerce spending.
2011 was a record year overall for e-commerce efforts, with Americans spending a total of $161.5 billion in the virtual retail arena. This number marks a 13 percent increase from 2010.
"Price and convenience continue to be the critical value drivers for e-commerce, and unless those conditions change we can expect to see more channel-shifting to online in 2012 and perhaps even an acceleration in the current growth trend," says comScore chairman Gian Fulgoni in a prepared statement.
Digital content & subscriptions are among the top-performing online product categories; other high grossing areas include consumer electronics, toys & hobbies and computer software. Each of these categories increased 18 percent in sales from fourth quarter 2010 numbers to fourth quarter 2011 figures.
Free shipping also seems to draw in e-commerce shoppers, with 52 percent of e-commerce transactions including the perk.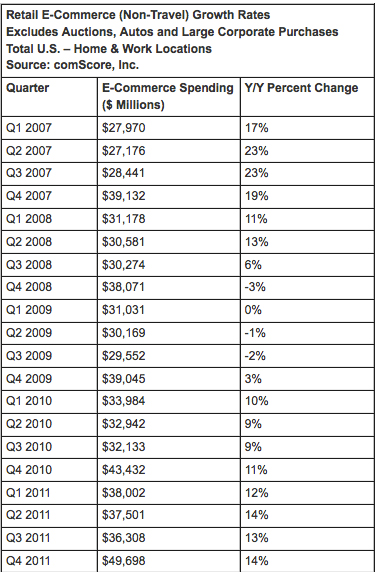 Meet the Author
---