Dwell Media Expands, Relocates to NYC

Move coincides with plans for brand refresh.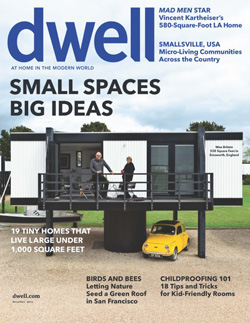 San Francisco-based Dwell Media, publisher of high-end modern design magazine Dwell, is doubling its office space and moving its creative team to New York City.
The move is the final step in a gradual eastward migration for edit and art staff at the company. The magazine, founded in 2000, first started setting up shop in New York two years ago.
While about 20 staffers will now be on the East Coast—with more expecting to be added in January—the company's operations will remain headquartered in San Francisco.
"The continuity of a creative team is not to be underestimated," says Michela O'Connor Abrams, president of Dwell Media. "Because New York is so pivotal in the design world, and given all that Dwell is doing with our new digital team and some other things we [launched], I really felt it was time to get the creative team together."
Dwell timed the move to facilitate collaboration on a brand refresh, Abrams adds. The company is partnering with its original art director, based in Brooklyn, to redesign its print and digital properties.
Dwell also announced the hiring of a new senior editor, William Lamb, who will be based out of the New York office.
Meet the Author
---