Dow Rollercoaster = Volatile Climate for Magazine Deals

As global markets shudder, RBI sale, others, face hurdles.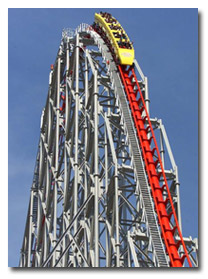 It looked like the U.S. financial markets were on the rebound Tuesday afternoon with the Dow Jones industrial average jumping nearly 400 points on expectations that Washington would rework a $700 billion Wall Street rescue plan. The rebound comes a day after the Dow plunged nearly 800 points on Monday—the largest one-day point drop in its history (it was down 7 percent, the lowest close in about three years).
While some magazine stocks have weathered the economic rollercoaster so far (publishers like Meredith Corp. and Playboy saw stocks dip slightly, others remained flat in midday trading), it remains to be seen how the U.S. financial sector fallout would affect markets worldwide, with European banks needing to be bailed out of crisis, too.
Yesterday, for instance, the Financial Times reported that bidders for Reed Elsevier's b-to-b publishing arm, Reed Business Information, are re-examining their bids after one of the banks that had been part of the consortium to lend the eventual buyer more than $1 billion backed out. That, according to the report, leaves a lending shortfall of 10 to 15 percent, or about $180 million.
No doubt, this volatile financial/credit market will have buyers and sellers alike feeling the pinch (deals can't get done if there isn't any money). In fact, one source FOLIO: spoke with yesterday said the RBI auction could be called off altogether.
I couldn't verify that (a Reed Elsevier spokesperson declined to comment) and I'd be surprised if the RBI sale were to meet such a dramatic end. As DeSilva + Phillips managing partner Reed Phillips told me yesterday, "when a company decides to get out of an industry, they sell, get out and move on." Unless more lenders have signaled their departure, he said, it would be unexpected to see the auction called off altogether.
Nonetheless, it will be interesting to watch how big deals like RBI, and the sale of Cygnus Business Media, pan out of over the next few weeks.
Meet the Author
---