Dow Jones Buys Hearst's Stake in SmartMoney

News corp. subsidiary now owns 100 percent of finance magazine.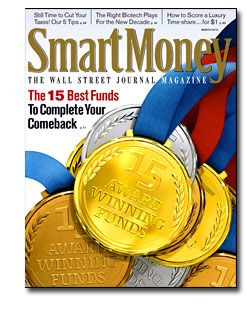 News Corp. subsidiary Dow Jones & Company Tuesday officially acquired Hearst's 50 percent stake in SmartMoney magazine, making Dow the brand's sole owner. The SmartMoney franchise includes the print magazine, SmartMoney.com and a custom publishing division.
The acquisition also effectively ends a nearly two decade old partnership between Hearst and Dow Jones. Hearst had managed SmartMoney's business operations while Dow Jones oversaw editorial.  
Both companies said last week that Dow Jones was aiming to buy Hearst's stake in the magazine.
According to Dow Jones president Todd Larsen, SmartMoney is a "natural fit" with the company. "During this turbulent economy, when many readers are seeking long-term guidance on managing a variety of personal finance issues, the need for high quality content in this space has never been greater. Having the SmartMoney franchise 100 percent integrated with the Dow Jones and Wall Street Journal teams will provide the avenues for the brand to grow exponentially."
In 2009, SmartMoney's advertising pages tumbled 22.9 percent compared to 2008, according to Publishers Information Bureau figures. The magazine saw its newsstand sales fall 37 percent to 26,388 during the second half last year while overall circ. fell 0.7 percent to 812,602.
Meet the Author
---