Domino Falls, and Shelter Magazines Run for Cover

Outcry over closing of Condé Nast title.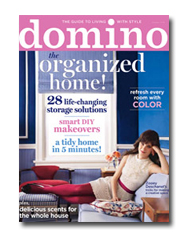 The announcement by Condé Nast that it is shutting down Domino, its four-year-old shelter title, while not surprising, given the magazine advertising climate, hit harder than most. (On the day the news broke, I got more IMs—many including sad emoticons—than I have for other magazine closings.)
I have an odd, emotional attachment to Domino. Perhaps it's because their launch party—a swanky, $500,000 bash held in Lower Manhattan—was one of the first magazine launch parties I ever attended.
(It could also be that I have somewhat of an interior design fetish, and sometimes fantasize about becoming an interior designer—with all the requisite antler-based light fixtures.)
Obviously, I'm not alone. The outcry in the blogodome was fast and furious:
Fans of the girlish, how-to decorating magazine owned by Condé Nast were vociferous in their disappointment, posting anguished comments on design sites like Apartment Therapy, Decorno and Design Sponge (which accrued 498 remarks in just a few hours), as well as nondesign sites, like The Huffington Post. Even Gawker readers set aside their snark to mourn. … The commenters bemoaned the death of a magazine that "felt" like them, and worried that their Domino subscription renewals, already paid, would yield subscriptions to Architectural Digest, Condé Nast's remaining shelter title (median reader age: 50).
In terms of a business, though, the magazine just wasn't working for Condé Nast.
Which I admit, working for a b-to-b magazine, is hard to fathom, considering its estimated—though surely inflated—ad revenue was up 24.3 percent to $60 million in 2008, and ad pages (down 4.1 percent) fared better than the industry average. (I mean, how can you not figure out a way to be a viable business with $60 million in ad revenue?)
Not only that, the magazine was overdelivering on its rate base by about 200,000 copies—due mainly to taking over House & Garden's subscriptions after Condé Nast decided to fold the 106-year-old title.
I guess in the end, with a name like Domino, it was sure to fall.
Meet the Author
---