Digital Marketing Spend Tops $50B as Direct Response Outpaces Branding

60 percent of digital spending to focus on DR.
Spending on digital advertising is set to top $50 billion on in 2014, according to a recent report by market research firm eMarketer.
And brands don't just want to show their face—they want to spur action.
Close to 60 percent of that digital marketing budget will be focused on direct response (DR) campaigns—executions designed to "elicit a specific call to action that prompt a target audience to respond immediately and directly to an advertiser"—with the remainder aimed at branding efforts, the report says.
Industries have different preferences when it comes to the DR-branding mix though. At the far ends of the spectrum, travel and retail strongly prefer DR, while consumer products and media still favor branding. Direct response spending is growing faster overall however, rising $4.74 billion in 2014 compared to branding's $2.79 billion increase.
The report also broke down digital ad spending by platform. Spending on desktop campaigns made up about two-thirds of the total market, with mobile devices accounting for the remaining third. This was the first year platform research was incorporated into the study.
Industry variance wasn't as high when sorting by platform, but preferences did emerge. Retail and media were the heaviest spenders on mobile, while the healthcare and consumer electronics segments favored desktop the most.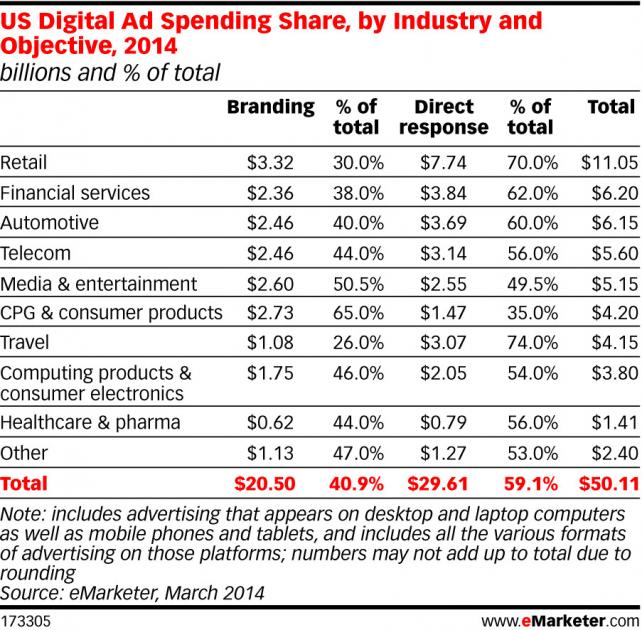 Meet the Author
---