Digital Editions on a Shoestring

Lonny launches as mid-market shelter title on a DIY budget.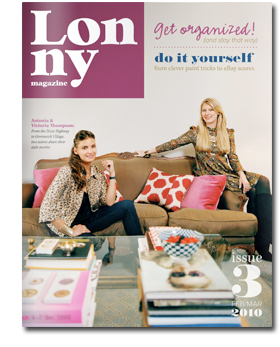 That Lonny, a middle-market shelter and home design title, launched with virtually a $19.00 monthly production budget belies the work and expertise that goes on behind the scenes. But the magazine, which was started by Michelle Adams, a former assistant at now-defunct Domino, and photographer Patrick Cline, has taken on a DIY sensibility with its digital edition-only platform that has filled a wide-open market niche.
The demise of the middle-market shelter category between 2007 and 2008 illustrated one of the economic paradoxes of magazine publishing. When Domino, House and Garden, Country Home, Blueprint and O at Home all folded, the market was suddenly left with a glaring opportunity, but no one could afford to fill it.
Adams, now Lonny's editor-in-chief, picked up where Domino left off. She and Cline launched the Domino-like Lonny last October on the Issuu digital edition platform, a service that lets independent publishers craft their magazines and upload PDF files for a monthly $19.00 fee.
There's no Web site (Lonnymag.com simply takes you to the current digital issue), but now just four issues into the launch, the magazine has already amassed 20 million page views and averages about 100,000 unique readers per month, says Adams.
The bimonthly magazine is free to readers and exists solely on an ad model.
Adams liked Issuu's hands-off sensibility which allowed the team to create their magazine and sell advertising into it without a revenue-share deal and an easy distribution platform that also supports the range of mobile devices, including the upcoming iPad from Apple. "Issuu has made it clear that their job is building the software and they don't care if we have a $2 million business," she says, meaning that there's no benchmark where Lonny graduates to a new level of service, particularly one that requires revenue sharing or higher fees to Issuu.
Lonny isn't a $2 million business, but Adams says the magazine is profitable and debt-free. This has been "without a penny" of investment aside from a substantial amount of sweat equity from Cline and Adams, and a fair amount of free services from industry friends.
Advertising has picked up, which Adams says will now allow her to start paying her partners. The issues, which break the 100-page barrier, have been averaging about 14 ad pages. "In the next few months we plan on expanding our advertising to reach new categories such as automotive, beauty, fashion, financial, etc., so we're expecting our ad sales to boost dramatically," says Adams.
Lonny is created and produced as any other magazine. Pages are ripped to PDF and simply uploaded to the Issuu platform. Adams is particularly fond of the ability to hot-link specific items in photo layouts to send readers to a furniture maker's or gallery's Web site. This, she says, could emerge as a pay-per-click revenue opportunity down the road.
Tracking is a key component of digital editions. Indeed, it's a powerful differentiator from print. "To me, with the state of advertising, you really need to show value to your advertisers," says Jessica Aslanian, director of sales and marketing at Blue Toad, another digital edition provider. "Without that you're not really offering anything different than a print version."
Adams said the only thing she needed that Issuu couldn't provide was the ability to track clickthroughs on ads—a critical function that was solved by some coding. "We have to code the link in our magazine. When someone clicks on the ad, they go first to our Google Analytics service and then gets forwarded to the Web site."
This all happens in under a second, says Adams, and it's what allows her to collect clickthroughs into a monthly spreadsheet for advertisers.
Beyond that, Adams can also track usage metrics on a per-page level. This gives the team the ability to see what content is getting the most readership. So far, says Adams, usage patterns have been a straight line all the way through the issue, indicating readers are engaging with the entire issue.
Meet the Author
---