Digital Ad Dollars Spike, But Still a Small Part of Total Revenue in B-to-B

B-to-b media revenue grew 4.4 percent through the first half of 2013.
B-to-b media continued its gradual recovery, posting revenue gains for the seventh-consecutive half-year period.
The industry generated $13.1 billion in revenue for the first six months of 2013, up 4.4 percent year-over-year, according to ABM's Business Information Network (BIN) report. Performance varied significantly by segment though.
Tradeshows continue to account for nearly half of total earnings ($5.8 billion; 45 percent) in b-to-b media, but growth in the sector fell to just 2.7 percent—less than half of what its rate last year. The Center for Exhibition Industry Research (the source for ABM's data) notes that there have been 12 positive quarters in a row, but warns that "there will be minimal growth through 2013."
Driven by advances in mobile, digital advertising revenues spiked 24.8 percent in the period, topping $2.3 billion. Growth was just 9.4 percent last year.
See Also: Ad Page Losses Mount for B-to-B 
However, as a percentage of total dollars, digital isn't moving very fast. The segment now accounts for 18 percent of industry revenue, which is just 7-percent more than it did in 2008—when the iPhone had just come out and tablets didn't exist.
As print advertising revenues decline—they fell 4.3 percent in the first half to $2.3 billion, now making up just over a quarter of total revenue—digital advertising and data and business services are attempting to make up that lost ground. The latter rose 7.1 percent to $1.3 billion this year.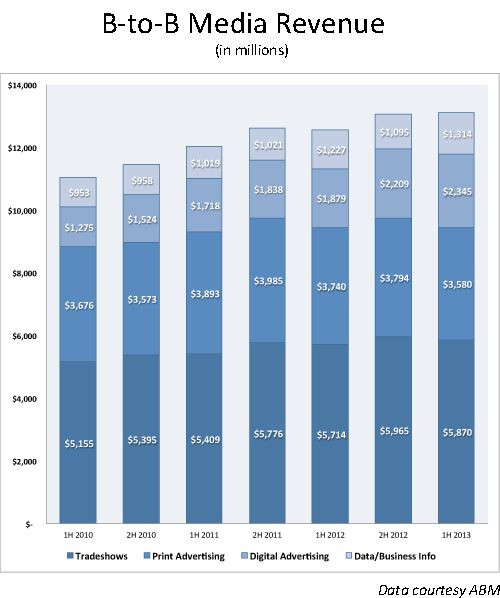 Meet the Author
---