Developing the Edit Staff That Will Define Your Future

As publishers develop new revenue streams, content—and staff—remain key.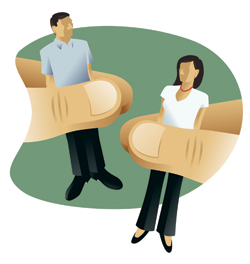 Community pool. Services arm. "Content without borders." Whatever the new concepts touted as the editorial structure of the future, one thing is clear; an editor's role will never be what it was just five years ago.
As the digital imperative grows and economic pressures mount, publishers are streamlining edit structure and fostering a new set of skills. Says Everything Channel's senior vice president and editorial director, Bob Demarzo: "A vast majority of our editors (content producers) are not dedicated to a single project or property, but product content to support all of our platforms; Web, print, events, research, etcetera."
The same way that publishing houses are analyzing each unit—from sales to events—for efficiencies and cost-savings, editors are not immune. "The bottom line is that we love publishing. But at end of day, it is a business, and the edit staff must be approached as such," says Amy Cosper, vice president and editor-in-chief of Entrepreneur Media.
The New Order
Over the past few years, publishers like Entrepreneur, Source Media, Questex Media and Taunton Press have reorganized their editorial structures.
In August 2008, Source reorganized its 60 magazines into four business groups—banking, capital markets, technology and professional services—which included recasting edit staffs for each individual brand and rolling editors into combined units for each new group. Each title continues to have an editor-in-chief, but no dedicated edit team. Source "draws from a community pool" of content, says CEO Jim Malkin, repositioning this group of publications to an information company. The goal: Saving money by creating content that can be used across brands.
Entrepreneur preempted other restructures when in 2007, it decided to eliminate its print publisher role to further integrate marketing platforms. "In terms of staff, the concept of everyone doing everything has been a gradual evolution for us," says Cosper. Most recently, the company made cuts across its edit team, furthering the need for jack-of-all-trades editors.
Taunton Press, a Newtown, Connecticut enthusiast publisher, recently reorganized, eliminating the publisher position and bringing content generation under central management. Its "Content Without Borders" initiative, involving all of Taunton's titles like Fine Cooking, Fine Woodworking and Threads, will have its own dedicated staff, sufficient enough to produce core issues and SIPs. Its creative unit, Taunton Creative, will "act as editorial backup—both on a planned and rescue basis—with two art directors and two edit assistants called upon to help with projects spanning magazines, Web, promotional, corporate and ancillary products," for the lean edit, says chief content officer Paul Spring.
Taunton's decision to restructure was "us looking down the road and realizing that content is no longer in individual buckets," says Spring. "We are not organizing and training in one medium or platform. Separating into individual platforms no longer makes sense in publishing; it's inefficient and creates too many meetings and conflicts." The new system allows Taunton to  "not have the cubicle walls up in a 'you do this, you do that' format."
From a hierarchical standpoint, Demarzo says the editorial structure is flatter than it's ever been. "The editorial setup is structured to leverage everybody's expertise. We have some people purely focused on technology, while others are market-focused. Eventually, they come together to support one another on various projects."
Next Generation Skills
Staff structure isn't the only thing that's changed. New hires are now required to have a broader skill set, viewing all content as multi-platform. Everything Channel deploys more junior editors on the front lines, who have taken on responsibilities that in the past were handled by a  managing editor, assistant managing editor or executive editor.
"Their editing skills, technical skills and packaging skills have to be to a higher level," Demarzo says, citing assistant managing editor Chad Bernstein, a former healthcare reporter in control of back-end packaging, who now covers the public sector. "Today, the content team inside Everything Channel is, for lack of a better description, a services arm. Our goal is to service the different P&Ls in the organization."
Expanding the edit team's skills is done in the interest of professional development, says Cosper. "It's important to cross-train, particularly now that the tail is wagging the dog and our online edit typically surpasses our print edit."
Everything Channel has also broken down the editorial silos. "One of our senior-most editors, Steve Burke, records and does analysis for print and Web, produces content for retail vision, and participates in various net seminars and virtual tradeshows," Demarzo says. "Like Steve, most of our editors are not tied to one particular product. This is the new model of journalists/editors/content producers that we have developed. We still have some editors who managed content, that are dedicated to specific properties like ChannelWeb or CRN and CRNTech. These are in the areas of editing or production."
While much has changed in Taunton's structure, certain skills remain. "We are still looking for people with top-notch communication skills, and particularly subject area passion, knowledge and experience in the field. Our readers spend on average three hours reading our magazines, so the stories must be in-depth," says Spring. "If an editor with passion is producing the content, it can then be used on whatever platform necessary, and then  be transformed by a Web producer for the online space."
Cost of Business
While many feel the effects of taking on the work that comes with reallocating resources, Spring says Taunton saw no investment cost of this new structure outside of the time to get "content without borders" running.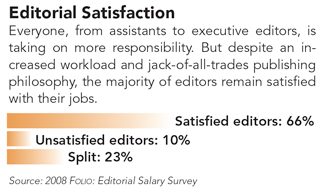 Others have found that reallocating resources has been an efficient way to streamline editorial. Questex, for example, is starting to farm out day-to-day edit for some of its properties in order to keep more senior editors focused on content strategy, according to CEO Kerry Gumas. Entrepreneur saves money by outsourcing "lots of duties, like full article editing, copy editing and some art," says Cosper, which has helped the company's operating budget "run 34.5 percent lower than this time last year. We're saving money, but working with a leaner staff [four print/six online editors]. It takes more elbow grease to get things done."
Demarzo isn't doing much recruiting for new hires and hopes that Everything Channel IPED research business will lead to opportunities for its editors. Demarzo cites Steve Burke, a well-known reporter in high tech industries, focusing on the retail market. "It wouldn't be so far fetched for someone like Burke to manage the community and events as more of a business person/community aggregator," he says. "Am I hiring pure editors or hiring people with technical/development skills who can also write?"
While Taunton and Entrepreneur say edit salary levels remaining flat, Demarzo says change is coming. "We talk as a management team about how you compensate editors. We have to build in rewards to drive these new initiatives, the same way we used to have a salesperson with a plan tied to print. The same thing should apply for edit—we're just not there yet. There should be some incentive for the contribution you make."
Meet the Author
---