Is Details Ready for its Close Up?

Cinematic promo plotting between magazine and Meistrich leaves much TBD.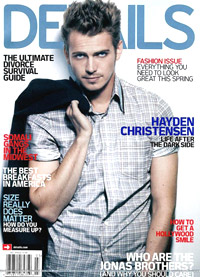 Reality television has shown us that anyone can be a star. So it makes sense that Details announced plans to team with an indie film producer Larry Meistrich for its next promotional venture: a movie based on its best reader submission.
There seems to be few things that Details knows: New York-based indie producer Meistrich ("You Can Count on Me" and "Sling Blade") will help choose the winner. And submissions can take virtually any form, from a few sentences to a finished screenplay.
And that's about it. Oh yes, and you have until May 1, 2009 to enter.
Of course, promotional contests have been done before on a much simpler scale, like ReaderDigest.com's joke submission contest, which pays $100 to if your joke is selected and published in the magazine. But with print advertising tanking, magazine's are desperately looking to TV and film for bigger and better branding opportunities.
But the idea for an essentially user-generated feature film wasn't taken from any current media offerings. "A mutual friend of both [Details editor] Dan and Larry said that the two of them should meet. They seemed to have the same goals; it just made sense," said a Details spokesperson.
Details editor-in-chief Dan Peres said that TV coverage of the movie-winning idea, from script stage through production and release, was a possibility, but uncertain. A spokesperson said that although the magazine "doesn't know what to expect," once they decide upon a winner, they'll go through the scripting process and see what coverage they can give in the magazine.
While Details is "still figuring out timing," it also has no particular movie genre, submission count, or circulation number in mind. And as far as a budget, "So much depends on the idea," said a Details spokesperson. "Is it filmed all in one city? If so, this makes it more affordable. But there really isn't a set limit."
They just want their readers—"intelligent, modern, metropolitan men,"—to be able to relate to the film. Or maybe they just don't want it going the way of Men's Vogue?
Meet the Author
---