Hanley Wood Relaunches Builder Site

Online flagship redesigned to keep up with user demand, president says.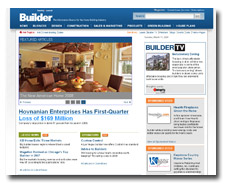 Residential housing and commercial construction publishing giant Hanley Wood has relaunched its flagship Builder magazine Web site, Builderonline.com.
"Our goal is to deliver a better reader experience, built on organizing the site around topics central to the industry, and grow traffic to the site by making it more search engine friendly," Hanley Wood Business Media president Peter Goldstone wrote in an e-mail to FOLIO:. "We [redesigned the site] because our readers are hungry to get our content across multiple channels and because our advertisers want to use e-media to reach more customers."
The housing market is in tough shape, Goldstone added, but that "makes it even more imperative for manufacturers to find creative ways to win new business—there's lots of interest in e-media as a result."
The redesigned Builderonline.com improves the user experience, the publisher says, with a more robust topical indexing system and improved site functionality. "We've gone to a wider format, which reflects the higher resolution screen our readers use, and have removed left navigation throughout the site," Goldstone wrote. "We have moved toward a navigation scheme that opens up the site to readers who can navigate by browsing to over 150 topic pages."
The site is organized using a new content management system—the Tridion platform—that enables editors to easily add and update content, and allows for new ad units and contextual advertising. "We've sold several topic sponsorships and are waiting a couple of months before pushing keyword-based campaigns because we need to get a clear picture of our inventory first," according to Goldstone.
Builderonline.com receives more than 300,000 page views and 100,000 unique visitors a month, according to Goldstone.
Meet the Author
---