Dennis Turned Down 'Hundreds of Millions' for The Week

Plans to make the magazine a billion-dollar franchise.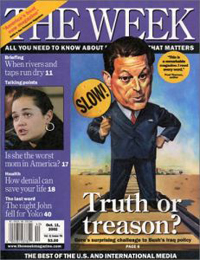 Felix Dennis has a little more work to do yet on his weekly news compilation The Week. He tells David Carr that he'll be expanding the magazine into more markets and has fended off some significant offers. "Cross my heart and hope to die, I have already been offered hundreds of millions of dollars for it."
Even after selling off Maxim, Stuff and music magazine Blender to Quadrangle-backed Kent Brownridge in mid-2007, Dennis declined to sell his one remaining U.S. title, noting that he expects it to become a sizable franchise. "I will throw The Week onto no pile until it becomes a half a billion or billion-dollar franchise. The Week is my baby," he says.
The North American version of the magazine has a circulation of about 500,000; the British version is the original; and Carr writes that an eastern version of the magazine will soon be released, supported by a five-person edit team in Australia and one-man bureaus in Hong Kong, Singapore and New Zealand.
Just as The Week is Dennis' across-the-bow shot at the sagging newsweekly market, the magazine's lean staff structure is his answer to bulging mastheads. "The American magazine industry has been massively overstaffed for years and years. It is one of the most inefficient businesses in the history of the world. And you know what? The chickens are coming home to roost."
Meet the Author
---