David Refkin

President, GreenPath Sustainability Consultants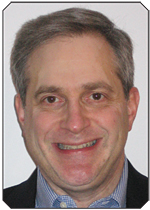 Refkin works to help companies see the business case for sustainability.
For David Refkin, sustainability is about saving business as well as the planet.
Refkin launched GreenPath Sustainability Consultants in 2009 after 26 years with Time Inc., where he started out in finance and ended up in charge of buying paper for the company's magazines—which at its height, he says, amounted to about 780,000 tons and $750 million of paper annually. In the mid 1990s, he became a driving force within the Environmental Defense Fund's Paper Task Force, which created recommendations for purchasing environmentally-friendly paper. With results from the study, Refkin helped Time Inc. to implement those changes, creating "report cards" of suppliers and increasing the percentage of certified fiber in the company's magazines from 25 percent to 68 percent within five years. In 2004, he spearheaded the ReMix campaign, an extensive marketing effort to increase recycling of magazines and catalogs, and in 2006, he helped measure the company's carbon footprint. He also used his clout with Time Inc. to encourage paper suppliers to develop lighter basis weights, a move that has helped the environment while reducing postage costs.
Refkin's next big project, in partnership with OneSource Distributors, is called "Remag": An effort to place kiosks at the entrance of retail stores that offer a choice of coupons to customers who insert a magazine into a slot for recycling. One of those choices will be, for example, $1 off the cover price of a magazine. The goal is to boost both recycling and newsstand sales, while sending a signal that the industry is proactively focused on sustainability. "There are win-wins out there," he says. "This is real change, and hard change, but to improve our world and make businesses more sustainable isn't always easy. The rewards, however, are innumerable for our children. That is change that is exciting and very rewarding."
VITAL STATS: At Time Inc., Refkin helped increase the amount of certified fiber in the company's magazines from 25 to 68 percent within five years. He's now launching a program called Remag to help boost newsstand sales as well as magazine recycling.
Meet the Author
---