D'oh!

EW plops Potter on cover—after studio pushes movie back to 2009.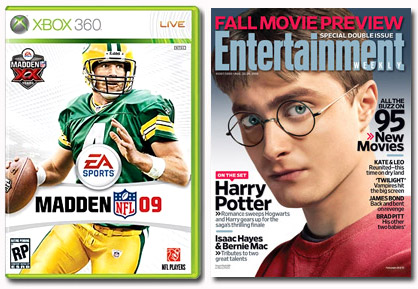 This isn't the first time something like this has happened to a magazine, and it won't be the last.
Still, D'oh!:
Warner Bros. gave Harry the school year off, announcing last week it was bumping the sixth movie in the series from fall to next summer. But Entertainment Weekly—which shares the studio's parent company, Time Warner Inc.—was unaware, featuring "Potter" star Daniel Radcliffe on the cover of its Aug. 22-29 fall-preview issue.

The magazine leads off the issue with a six-page spread pegged to "Harry Potter and the Half-Blood Prince," which Warner Bros. on Thursday moved from its Nov. 21 release date to July 17, 2009.
This isn't as egregious as, say, putting new Jets quarterback Brett Favre on the cover of the Madden 2009 video game—as a Packer—but it's a rough time for the magazine to stumble.
Single copy sales of Entertainment Weekly fell 7 percent in the first half, according to the Audit Bureau of Circulations' latest Fas-Fax. Ad pages, meanwhile, were down 16.8 percent during the first half, according to the Publishers Information Bureau, while ad revenue declined 13 percent.
Meet the Author
---